Two Months' Suspension for Increasing Weight of Lorry
21st August 1959
Page 35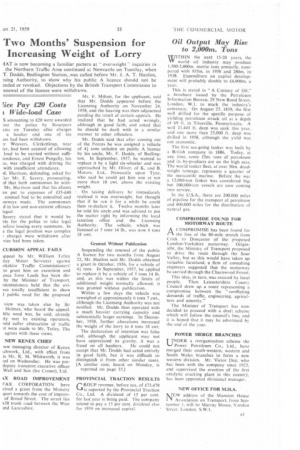 Page 35, 21st August 1959 —
Two Months' Suspension for Increasing Weight of Lorry
Close
-IAT is now becoming a familiar pattern at " overweight" inquiries in the Northern Traffic Area continued at Newcastle on Tuesday, when T. Dodds, Bedlington Station, .was called before Mr. J. A. T. Hanlon, ising Authority, to show why his public A licence should not be ended or revoked. Objections by the British Transport Commission to -enewal of the licence were withdrawn.
Mr. F. Milton, for the applicant, said that Mr. Dodds appeared before the Licensing Authority on November 24, 1958, and the hearing was then adjourned pending the result of certain appeals. He realized that he had acted wrongly. although in good faith, and asked that he should he dealt with in a similar manner to other offenders.
Mr. Dodds•said that after coming out of the Forces he was assigned a vehicle of 41 tons unladen on public A licence by his uncle, Mr. F. Dodds. of Bedlington. In September, 1957, he wanted to replace it by a light six-wheeler and was approached by Mr. Oliver, of K. and B. Motors. Ltd., Newcastle upon Tyne. who said he could get him one at not more than 10 cwt. above the existing weight.
On taking delivery he immediately realized it was overweight, but thought that if he ran it for a while he could then re-declare it. Twelve months later he told his uncle and was advised to put the matter right by informing the local taxation office and the Licensing Authority. The vehicle, which was licensed at 5 tons 14 lb.. was now 6 tons 18 cwt.
Granted Without Publication
Suspending the renewal of the public A licence for two months from August 22, Mr. Hanlon said Mr. Dodds obtained a grant in October, 1956, for a vehicle of 41 tons. In September, 1957, he applied to replace it by a vehicle of 5 tons 14 lb. and, as this was within the limits of additional weight normally allowed, it was granted without publication.
Within a few days the vehicle was reweighed at approximately 6 tons 7 cwt.. although the Licensing Authority was not notified. Mr. Dodds then operated with a much heavier carrying capacity and substantially larger earnings. In December, 1958, further alterations increased the weight of the lorry to 6 tons 18 cwt.
The declaration of intention was false and, although the applicant may not have appreciated its gravity, it was a fraud on all hauliers. He could not accept that Mr. Dodds had acted entirely in good faith, but it was difficult to distinguish it from other similar cases. [A similar case, heard on Monday, is reported on page 351
PROVINCIAL TRACTION RESULTS
GROUP revenue, before tax, of £73.478 is reported by the Provincial Traction Co., Ltd. A dividend of 15 per cent. for last year is being paid. The company intend to pay a 15 per cent, dividend also
for 1959 on increased capital. •