Oil Output May Rise to 2,000m. Tons
21st August 1959
Page 35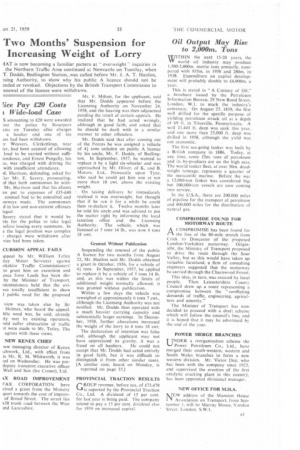 Page 35, 21st August 1959 —
Oil Output May Rise to 2,000m. Tons
Close
%WITHIN the next 15-20 years, the YV world oil industry may -produce 11.500-2.000m. metric tons annually, compared with 935m. in 1958 and 280m. in 1938. Expenditure on capital development will probably double to £4.000m. a year.
This is stated in " A Century of Oil,a brochure issued by the Petroleum Information Bureau, 29 New Bond Street, London, W.I. to mark the industry's centenary. On August 27, 1859. the first well drilled for the specific purpose of yielding. petroleum struck oil at a depth of 69 ft. in Titusville, Pennsylvania. A well 21.443 ft. deep was sunk this year. and one more than 25.000 ft. deep was drilled in 1958, although the yield was not economic, The first sea-going tanker was built by a British company in 1886. Today, at any time, some f5m. tons a petroleum and its by-products are on the high seas. The world tanker fleet, at over 50m. deadweight tonnage, represents a quarter of the mercantile marine. Before the war a 12.000-ton Canker was considered big, but 100,000-ton vessels are now coming into service.
in the U.S.A., there are 200,000 milek of pipeline for the transport of petroleum and 400,000 miles for the distribution of natural gas.
COMPROMISE FOUND FOR MOTORWAY ROUTE
ACOMPROMISE has been found for the line of the 86-mile stretch from Crick to Doncaster of the Proposed London-Yorkshire motorway. Originally, the Ministry of Transport proposed to drive the route through the Soar Valley, but as this would have taken up valuable farmland, a firm of consulting engineers suggested that the motorway be carried through the Charnwood Forest.
This idea, in turn, was resisted by local people. Then Leicestershire County Council drew up a route representing a compromise between the " conflicting demands of traffic, engineering, agriculture and amenity."
The Minister of Transport has now decided to proceed with a draft scheme which will follow the council's line, and it is hoped that it may be advertised by the end of thc year.
POWER MERGE BRANCHES
UNDER a reorganization scheme the Power Petroleum Co., Ltd., have merged their south-western, western and South Wales branches to form a new western division. Mr. Victor Day, who has been with the company since 1923. and supervised the erection of the first catalytic cracking plant in this countrk. has been appointed divisional manager.
NEW OFFICE FOR M.H.A.
MEW address of the Mansion House Association on Transport, from September 1. will he Murray House, Vandon Street. I.ondon, S.W.I.