',ice Pay £20 Costs t Wide-load Case S amounting to
21st August 1959
Page 35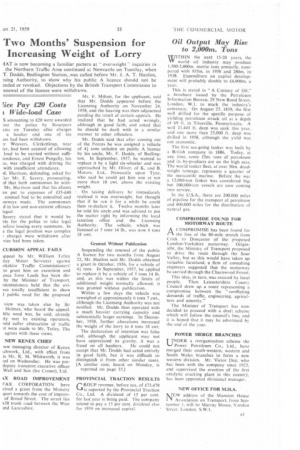 Page 35, 21st August 1959 —
',ice Pay £20 Costs t Wide-load Case S amounting to
Close
£20 were awarded nst the police by Stourport ates on Tuesday after charges
a haulier and one of his ees had been withdrawn.
T Weavers, Clerkenleap, near ter, had been accused of allowing load to be carried without suffitendance, and Ernest Pengelly, his e. was charged with driving the with insufficient attendance.
A. Harrison, defending, asked for 'ter Mr. E. Savery, prosecuting, :c11 that both summonses be withMr. Harrison said that his clients en put to expenses of £35-£40 counsel had to be consulted and iurneys made. The summonses
d in law and non-existent offences leged.
Savery stated that it would be ale for the police to take legal )efore issuing every summons. In e the legal position was complex charges were withdrawn after vice had been taken.
CURSION APPEAL FAILS
ippeal by Mr. William Tetley hey Motor Services) against irkshire Traffic Commissioners' to grant him an excursion and ence from Leeds has been disby the Minister of Transport. Immissioners held that the evivas totally insufficient to show I public need for the proposed
view was taken also by Sir Holmes, who heard the appeal. blic need was, he said. already Ay met by existing operators, mid suffer abstraction of traffic it were made to Mr. Tetley. The agrees with these views.
NEW KENEX CHIEF
-kw managing director of Kenex ,chwork, Ltd., with effect from is Mr. K. M. Whitworth, it was :ed on Wednesday. He was predeputy transport executive officer Wall and Son (Ice Cream), Ltd.
1X ROAD IMPROVEMENT
FAX CORPORATION have eived a grant from the Ministry :port towards the cost of improvof Broad Street. The street lies a58 trunk road between the West %rid Lancashire.