Revolutionary Battery : Electricity on Tap
21st August 1959
Page 34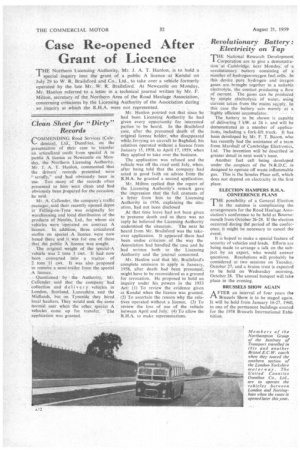 Page 34, 21st August 1959 —
Revolutionary Battery : Electricity on Tap
Close
Keywords :
Energy
,
Hydrogen Production
,
Physics
,
Electrochemistry
,
Chemistry
,
Electrolysis
,
Fuel Cells
,
Recyclable Materials
,
Hydrogen Vehicle
,
Electrolysis Of Water
,
Battery
THE National Research Development Corporation are to give a demonstration at Cambridge. next Monday," of a revolutionary battery consisting of a riumber of hydrogen-oxygen fuel cells. In this device phre hydrogen and oxygen gases are-broughttogether in a suitable electrolyte, the contact producing a flow of current. The gases can be produced. by simple electrolysis Of water, using
• current taken front the mains supply. In
this case .the battery acts• merely as a•highly efficient accumulator. •" • The . battery to be shown is capable of delivering 5 kW. at 24 v. and will be demonstrated in a number of applications, including a fork-lift truck. It has been developed by Mr. F. T. Bacon, who has recently had the assistance of a team from Marshall of Cambridge Electronics, Ltd. The invention will be described in greater detail in next week's issue.
Another fuel cell being developed under the auspices of the N.R.D.C. is designed to operate off waste inflammable gas. This is the Sondes Place cell, which does not depend on electricity in the first place.
ELECTION HAMPERS R.H.A. CONFERENCE PLANS "
THE possibility of a General Election in the autumn is complicating the arrangements for the Road Haulage Association's conference to be held at Bournemouth from October 26-28. If the election occurred during the period of the conference, it might be necessary to cancel the event.
It is hoped to make a special feature of security of vehicles and loads. Efforts are being made to arrange a talk on the subject by an expert, who would answer questions. Resolutions will probably be considered at two sessions on Tuesday, October 27, and a brains trust is expected to be held on Wednesday morning, October 28. The annual banquet will take place in the evening.
BRUSSELS SHOW AGAIN
AFTER an interval of four years the Brussels Show is to be staged again. It will be held from January 16-27, 1960, in one of the permanent buildings erected for the 1958 Brussels International Exhibition.