Passing Comments
21st August 1959
Page 32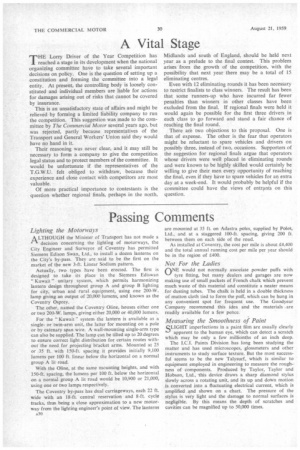 Page 33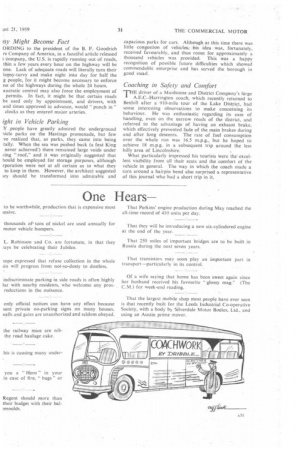 Page 32, 21st August 1959 —
Passing Comments
Close
Lighting the Motorway's
A LTHOUGH the Minister of Transport has not made a " decision concerning the lighting of motorways, the City Engineer and Surveyor of Coventry has permitted Siemens Edison Swan, Ltd., to install a dozen lanterns on the City's by-pass. They are said to be the first on the market of the new 3-ft. Linear Sodium pattern.
Actually, two types have been erected. The first is designed to take its place in the Siemens Ediswan " Kuwait " unkary system, which permits harmonizing lantern design throughout group A and group B lighting for city, urban and rural equipment, using one 200-W. lamp giving an output of 20,000 lumens, and known as the Coventry Osprey.
The other, named the Coventry Oline, houses either one or two 200-W. lamps, giving either 20,000 or 40,000 lumens.
For the " Kuwait " system the lantern is available as a singleor twin-arm unit, the latter for mounting on a pole or by catenary span wire. A wall-mounting single-arm type can also be supplied. The lamp can be tilted up to 20 degrees to ensure correct light distribution for certain routes without the need for projecting bracket arms. Mounted at 25 or 35 ft. with 150-ft. spacing it provides initially 9,100 lumens per 100 ft. linear below the horizontal on a normal group A lit road.
With the Oline, at the same mounting heights, and with 150-ft. spacing, the lumens per 100 ft. below the horizontal on a normal group A lit road would be 10,900 or 21,000, using one or two lamps respectively.
The Coventry by-pass has dual carriageways, each 22 ft. wide with an 18-ft, central reservation and 8-ft. cycle tracks, thus being a close approximation to a new motorway from the lighting engineer's point of view. The lanterns A30 are mounted at 35 ft. on Adastra poles, supplied by Poles, Ltd., and at a staggered 100-ft. spacing, giving 200 ft. between them on each side of the road.
As installed at Coventry, the cost per mile is about £4,400 and the total annual running cost per mile per year should be in the region of £400.
Not For the Ladies
nNE would not normally associate powder puffs with tyre fitting, but many dealers and garages are now making use of small packets of French chalk which prevent much waste of this material and constitute a neater means for dusting tubes. The chalk is held in a double thickness of mutton cloth tied to form the puff, which can be hung in any convenient spot for frequent use. The Goodyear Company recommend this idea and the materials -are readily available for a few pence.
Measuring the Smoothness of Paint
SLIGHSLIGHT imperfections in a paint film are usually clearly to the human eye, which can detect a scratch which may be only a few millionths of an inch deep.
The LC.I. Paints Division has long been studying the matter and has used microscopes. glossmeters and other instruments to study surface texture. But the most successful seems to be the new Talysurf, which is similar to equipment employed in engineering to measure the roughness of components. Produced by Taylor, Taylor and Hobson, Ltd., this device draws a sharp diamond stylus slowly across a rotating unit, and its up and down motion is converted into a fluctuating electrical current, which is amplified and shown on a chart. The pressure of the stylus is very light and the damage to normal surfaces is negligible. By this means the depth of scratches and cavities can be magnified up to 50,000 times.
rsy Might Become Fact
ORDING to the president of the B. F. Goodrich re Company of America, in a fanciful article released company, the U.S. is rapidly running out of roads, thin a few years every hour on the highway will be one. Lack of adequate roads will literally turn their topsy-turvy and make night into day for half the g people, for it might become necessary to enforce Ise of the highways during the whole 24 hours.
aucratic control may also force the employment of permits. In fact, it might be that certain roads be used only by appointment, and drivers, with and times approved in advance, would "punch in" clocks as they entered major arteries.
ight in Vehicle Parking
Y people have greatly admired the underground -tide parks on the Hastings promenade, but few ye realized that, as parks, they came into being tally. When the sea was pushed back (a feat King never achieved!) there remained large voids under iing "roof," and it was originally suggested that hould be employed for storage purposes, although rporation were not at all certain as to what they to keep in them. However, the architect suggested ley should be transformed into admirable and
capacious parks for cars. Although at this time there was little congestion of vehicles, his idea was, fortunately, received favourably, and thus room for approximately a thousand vehicles was provided. This was a happy recognition of possible future difficulties which showed commendable enterprise and has served the borough in good stead.
Coaching in Safety and Comfort
THE.driver of a Maidstone and District Company's large A.E.C.-Harrington coach, which recently returned to Bexhill after a 910-mile tour of the Lake District, had some interesting observations to make concerning its behaviour. He was enthusiastic regarding its ease of handling, even on the narrow roads of the district, and referred to the advantage of having an exhaust brake, which effectively prevented fade of the main brakes during and after long descents. The rate of fuel consumption over the whole run was 16.5 m.p.g., but he hoped to achieve 18 m.p.g. in a subsequent trip around the less hilly area of Lincolnshire.
What particularly impressed his tourists were the' excellent visibility from all their seats and the comfort of the vehicle in general. The way in which the coach made a turn around a hairpin bend also surprised a representative of this journal who had a short trip in it.