6-cwt. Body for a 4-ton ner
21st April 1950
Page 57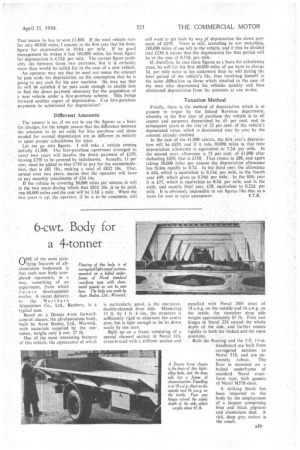 Page 57, 21st April 1950 —
6-cwt. Body for a 4-ton ner
Close
r-INE of the most satis
fying features of all aluminium bodywork is that each new body corn'pleted represents, in a way, something .of an experiment, from Nkhich fut ure developments evolve. A recent delivery 'to the Northern Aluminium Co., Ltd., Banbury, is a typical case. Based on a Dennis 4-ton forwardcontrol chassis, the all-aluminium body, built by Avon Bodies, Ltd., Warwick, with -materials supplied by the customer, weighs only 6 cwt. 27 lb, One of the most 'interesting features of this vehicle, the appearance of which is particularly good, is the one-piece, double-skinned drop side. Measuring 15 ft. by 1 ft. 6 ins., the structure is sufficiently rigid to eliminate the centre post, but is light enough to be let down easily by one man.
Built up on a frame consisting of a special channel section in Noral 51S, cross-braced with a stiffener section and panelled with Noral 3SH sheet of 18 s.w.g on the outside and 16 s.w.g. on the inside, the complete drop side weighs approximately 65 lb. Four cast hinges in Noral 226 extend the whole depth of the side, and further ensure rigidity in both the locked and the open positions.
Both the flooring and the 241. 11-in. headboard are built from corrugated sections in Noral 518, and are extremely robust. The floor is mounted on a bolted underframe of standard Noral cruciform type, with gussets of Noral M57S sheet.
A striking finish has been imparted to the body by the employment of a lacquer comprising blue and black pigment and aluminium dust. A rich, deep grey colour is the result.