Lift Truck .System Without Pallets:
21st April 1950
Page 37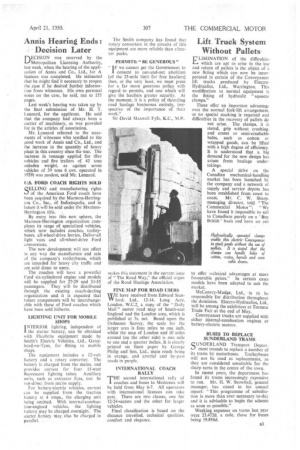 Page 37, 21st April 1950 —
Lift Truck .System Without Pallets:
Close
ELIMINATION of the difficultie, which are apt to arise in the 'use and return of pallets is the object of a new fitting which can now be incorporated in certain of the Conveyancer lift trucks produced by ElectroHydraulics, Ltd., Warrington. This modification to normal equipment is the fitting of hydraulic " squeeze clamps." These offer an important advantage over the normal fork-lift arrangement. as no special stacking is required and difficulties in the recovery of pallets do not arise. The clamps, it is stated, grip without crushing. and crates or semi-crushable bates, such as cotton or wrapped goods, can be lifted with a high degree of efficiency. It is understood that a big demand for the new design has arisen from haulage undertakings. A special drive on the Canadian mechanical-handling market has been launched by the company and a network of supply and service depots has been established from coast to coast. Mr. C. W. Sharp. managing director, told "The
Commercial Motor ": We have found it impossible to sell to Canadians purely on a Buy British ' basis and have set out
to offer technical advantages at more favourable prices." In certain cases models have been adapted to suit the market. McConvry-Mudge, Ltd., is to be responsible for distribution throughout the dominion. Electro-Hydraulics, Ltd., will be among the exhibitors at Toronto Trade Fair at the end of May. Conveyancer trucks are supplied with either internal-combustion engines or battery-electric motors.
RUSES TO REPLACE SUNDERLAND TRAMS
SU ND ERL AND Transport Department intends to replace a number of its trams by motorbuses. Trolleyb uses will not be used as replacements, as they are considered unsuitable for the sharp turns in the centre of the town. In recent years, the department has found its trams increasingly expensive to run. Mr. H. W. Snowball, general manager, has stated in his annual report: " This programme of substitution is more than ever necessary to-day and it is advisable to begin the scheme as soon as possible." Working expenses on trams last year were 23.472d. a mile, those for buses being 19.856d.