_Minis Hearing Ends: • Decision Later
21st April 1950
Page 37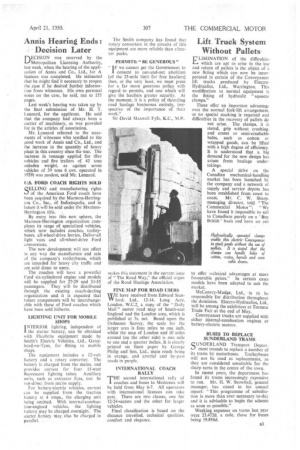 Page 37, 21st April 1950 —
_Minis Hearing Ends: • Decision Later
Close
DECISION was reserved by the Metropolitan Licensing . Authority, fast week, when the hearing of the application of Annis and Co., Ltd., for A licences was completed. He intimated that he might find it necessary to reopen the ,case if he desired further information from witnesses. His own personal notes on the case, he said, ran to 155 pages. Last week's hearing was taken up by the final submission of Mr. H. T. Lennard, for the applicant. He said that the company had always been a order of machinery, as was provided for, in the articles of association. Mr. Lennard referred to the statements of witnesses who testified to the good work of Annis and Co., Ltd., and the increase in the quantity of heavy plant in this country since the war. The increase in tonnage applied for (five vehicles and five trailers of 43 tons unladen weight, as against seven vehicles of 39 tons 6 cwt. operated in 1939) was modest, said Mr. Leonard.
U.S. FORD COACH RIGHTS SOLD
SELLING and manufacturing rights of the American Ford coach have been acquired by the Marmon-Herrington Co., Inc., of Indianapolis, and in future it will be sold under the Marmon Herrington title. • By entry into this new sphere, the Marmon-Herrington organization corn.; Metes its range of specialized vehicles, which now includes coaches, trolleybuses, all-wheel-drive lorries, Delivr-all light vans and all-wheel-drive Ford conversions.
The new development will not affect in any way the manufacture and sale of the company's trolleybuses, which are intended for heavy city traffic and are sold direct to users.
The coaches will have a powerful Ford six-cylindered engine and models will be supplied for 27-29 and 31-35 passengers. They will be distributed through, the existing coach-dealing organization and. it is expected that Future components will be interchangeable with those of Ford coaches which have been sold hitherto.
LIGHTING UNIT FOR MOBILE SHOPS
INTERIOR lighting, independent of 1 the starter battery, can be obtained with Fluobrite equipment made by Smith's Electric Vehicles, Ltd., Gateshead-on-Tyne, for fitting to mobile shops. The equipment includes a I2-volt battery and a rotary converter. The battery is charged from the mains, and provides current for four I5-watt fluorescent lighting tubes. Auxiliary units, such as extractor fans, can be run direct from mains supply. For battery-electric vehicles, current can be supplied from the traction battery at 4 amps., the charging unit being omitted. With internal-combustion-engined vehicles, the lighting battery. may be charged overnight. The starter -battery may, also be charged in parallel. • • The Smith company has found that rotary converters in the circuits of this equipment are more reliable than vibrator packs.
PERMITS: " BE GENEROUS"
" IF we cannot get the Government to 1 consent to out-and-out abolition [of the 25-mile limit for free hauliers] then, at the very least, we must press for a far more generous policy with regard to permits, and one which will give the hauliers greater security. At the moment, it is a policy of throttling road haulage businesses entirely, irrespective of the importance of their work."
Sir David Maxwell Fyfe, K.C., M.P..
makes this statement in the current issue of "The Road Way," the official organ of the Road Haulage Association.
FINE MAP FOR ROAD USERS VfjE have received from Edward StanVV ford, Ltd., 12-14, Long Acre, London, W.C.2, a copy of the "Daily Mail" motor road map of South-east England and the London area, which is published at 5s. net. Based upon the Ordnance Survey, the scale for the larger area is foul miles to one inch, whilst the map of London and 10 miles around (on the other side) is one mile to one and a quarter inches. It is clearly printed on linen paper by George Philip and Son, Ltd., main roads being in orange, and arterial and by-pass roads in purple.
INTERNATIONAL COACH RALLY
THE second international rally of coaches and buses to Montreux will be held from May 6-7. All operators with international licences can take part. There are two classes, one for 12-24-seaters and the other for larger vehicles. Final classification is based on the distance travelled, technical qualities. comfort and elegance.