Cars the Railways' Chief Enemy
21st April 1950
Page 32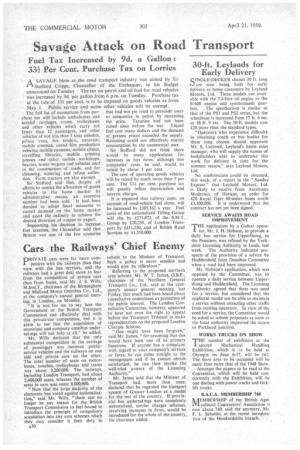 Page 32, 21st April 1950 —
Cars the Railways' Chief Enemy
Close
PRIVATE cars were far more corn., petitive with the railways than they were with the bus services, and the railways had a great deal more to fear from the competition of private 'cars than from buses, said Mr. J. S. Wills, Minst.T., chairman of the Birmingham and Midland Motor Omnibus Co., Ltd.,. at the company's annual general meeting, in London, on Monday.
"It is not for me to say how the Government or the British Transport Commission can effectively deal with this private-car competition, but it is plain to see that the acquisition of municipal and company omnibus undertakings will not help at all," he added. Mr. Wills declared that the only substantial competition in the carriage of passengers was between .publicservice vehicles and the railways on one side and private cars on , the other. The total number of seats on motorbuses, coaches, trolleybuses and trams was about_ 3,200,000. The railways, including London Transport, had about 2,400,000 seats, whereas the number of seats in cars was some 8,000,000.
"Now that the large majority of the electorate has voted against nationalization," said Mr. Wills, " there can no longer be • any reason for the British Transport Commission to feel bound to introduce the principle of compulsory acquisition into any area schemes which they may consider it their duty to
A30
submit to the Minister of Transport. Such a policy is never, sensible and would now he ridiculous."
Referring to the proposed northern area scheme, Mr. W. T. James, 0.B.E., chairman of the Northern General Transport Co., Ltd., said at the company's annual general meeting, last Friday, that much had been heard about consultative committees as protectors of the public interest. The London Consultative Committee, however, appeared to have not even the right to appear before the Transport Tribunal to make representations on the proposed London Charges Scheme.
"One might have been forgiven," said Mr. James, "for assuming that this would have been one of its primary functions. If anyone has a complaint with regard to your company's services or fares, he can come straight to the management and if -he cannot obtain satisfaction, he can then invoke the well-tried 'powers of the Licensing Authority."
Mr. James said that the Minister of Transport had, more than once, declared that he regarded the transport system of Greater London as a model for the rest of the country. If provincial bus undertakings were completely nationalized, similar charges schemes, involving increases -in fares, would be introduced for the whole of the country, the chairman added.