30-ft. Leylands for Early Delivery
21st April 1950
Page 32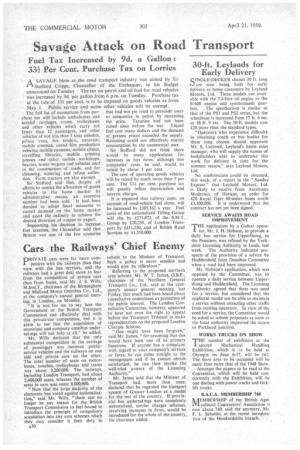 Page 32, 21st April 1950 —
30-ft. Leylands for Early Delivery
Close
QINGLE-DECKER chassis 30 ft. long )--) are now being built for early delivery to home customers by Leyland Motors, Ltd. These models are available with the 7.4-litre oil engine or the 0/600 engine and synchromesh gear
box. The specification is similar to that of the PSI and PS2 series, but the wheelbase is increased from 17 ft. 6 ins. to 18 ft. 9 ins. The 30-ft. models cost £20 more than the standard types.
"Operators who experience difficulty in obtaining coach or bus bodies for these long chassis should approach Mr. S. Cartmell, Leyland's home sales manager, who will supply the names of bodybuilders able to undertake this work for delivery in time for the summer season." says Leyland Motors, Ltd.
No confirmation could be obtained, this week, of a report in the "Sunday Express" that Leyland Motors, Ltd. is likely to receive from Autobuses Modernos, of Havana, an order for 620 Royal Tiger 40-seater buses worth £3,100,000. It is understood that the contract has not yet been signed.
SERVICE AWAITS ROAD IMPROVEMENT
THE application by a Golcar opera' tor, Mr. J. H. Hobson, to provide a daily bus service for UPperthong, in the Pennines, was refused by the Yorkshire Licensing Authority in Leeds, last week. The Authority indicated -prospects of the provision of a service by Huddersfield Joint Omnibus Committee when a road had been improved.
Mr. Hobson's application, which was opposed by the Committee, was to operate a daily 'service between Upperthong and Huddersfield. The Licensing Authority agreed that there was need for a service, but considered that the applicant would not be able to maintain a service without attracting other traffic from existing operators. In view of the need for a service, the Committee would be asked to submit proposals as soon as the local authority improved the access to Parkhead junction,
WORKS TRUCKS ON SHOW
THE number of exhibitors at the second Mechanical Handling Exhibition, which is to be held at Olympia on June 6-17, will be -162. The floor area to be occupied will be more than twice that of the 1948 Show.
Amongst the papers to be read at the Convention, which will be held concurrently with the Exhibition, will be one dealing with power trucks and forklift trucks.
B.A.C,A. MEMBERSHIP 760 NyTEMBERSHIP of the British AgriM cultural Contractors' Association is now about 760, said the secretary, Mr. F. L. Sabatini, at the recent inauguration of the Herefordshire branch.