Passing . Comments B.T.C. Road Passenger THE total number of Fleets and their Main coaches and buses owned
21st April 1950
Page 30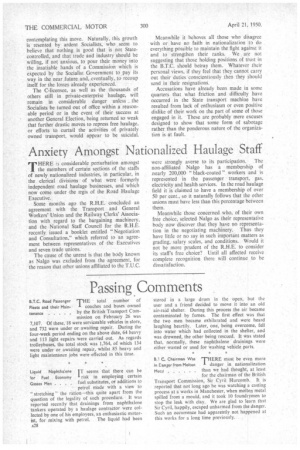 Page 31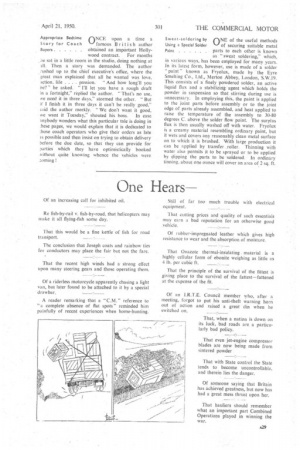 Page 30, 21st April 1950 —
Passing . Comments B.T.C. Road Passenger THE total number of Fleets and their Main coaches and buses owned
Close
tenance by the British Transport Com mission on February 26 was 7,107. Of these, 18 were serviceable vehicles in store, and 732 were under or awaiting repair. During the four-week period ending on the above date, 64 heavy and 113 light repairs were carried out. As regards trolleybuses, the total stock was 1,764, of which 134 were under or awaiting repair, whilst 85 heavy and light maintenance jobs were effected in this time.
Liquid Naphtha!ene IT seems that there can be for Fuel Economy risk in employing certain Gasses Men . . . • fuel substitutes, or additions to petrol made with a view to " stretching" the ration—this quite apart from the question of the legality of such procedure. It was reported recently that drainings from naphthalene tankers operated by a haulage contractor were collected by one of his employees, an enthusiastic motor ist, for mixing with petrol. The liquid had been A28 stored in a large drum in the open, but the user and a friend decided to move it into an old air-raid shelter. During this process the air became contaminated by fumes. The first effect was that the two men became exhilarated and were heard laughing heartily. Later, one, being overcome, fell into water which had collected in the shelter, and was drowned, the other being rescued. It was stated that, normally, these naphthalene drainings were either wasted or used for washing vehicle parts.
B.1 C. Chairman Was THERE must be even more in Danger from Molten I danger in nationalization Metal than we had thought, at least
for the chairman of the British Transport Commission, Sir Cyril Hurcomb. It is reported that not long ago he was watching a casting process at a works in Manchester, when molten metal spilled from a mould, and it took 10 foundry:men to stop the leak with clay. We are glad to learn that Sir Cyril, happily, escaped unharmed from the danger. Such an occurrence had apparently not happened at this works for a long time previously. Appropriate Bedtime nNCE upon a time a Story for Coach 1.--f famous British author Buyers obtained an important Hollywood contract. For months , :le sat in a little room in the studio, doing nothing at ill. Then a story was demanded. The author .rushed up to the chief executive's office,. where the
great man explained that all he wanted was love,
Action, life . . passion. "And how long'11 you be?" he asked. " I'll let you have a rough draft in a fortnight," replied the author. "That's no use, we need it in three days," stormed the other. "But it I finish it in three days it can't be really good," ;aid the author meekly. "We don't want it good, we want it Tuesday,shouted his boss. In case inybody wonders what this particular tale is doing in :hese pages, we would explain that it is dedicated to :hose coach operators who give their orders as late is possible and then insist on trying to obtain delivery before the due date, so that they can provide for 2arties which they have optimistically booked
without quite knowing whence the vehicles were !
Sweat-soldering by nNE of the useful methods Using a Special Solder Ib-f of securing suitable metal Paint . . , parts to each other is known
as "sweat soldering," which, in various ways, has -been erriployed for many years. In its latest form, however, use is made of a solder
paint" known as Fryolux, made by the Eyre Smelting Co., Ltd., Merton Abbey, London, S.W.19. This consists of a finely powdered solder, an active liquid flux and a stabilizing agent which holds the powder in suspension so that stirring during use is unnecessary. In employing, this, the paint is applied to the joint parts before assembly or to the joint edge of parts already assembled, and heat applied to raise the temperature of the assembly to 30-80 degrees C. above the solder flow point. The surplus flux is then usually washed off with water. Fryolux is a creamy material resembling ordinary paint, but it wets and covers any reasonably clean metal surface on to which it is brushed. With large production it can be applied by transfer :roller. Thinning with water also permits it to be sprayed or to be applied by dipping the parts to be soldered. In ordinary tinning, about one ounce will cover an area of 2 sq. ft.