Transport Tool Being Blunted
21st April 1950
Page 29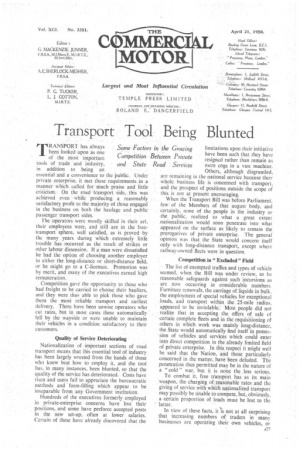 Page 30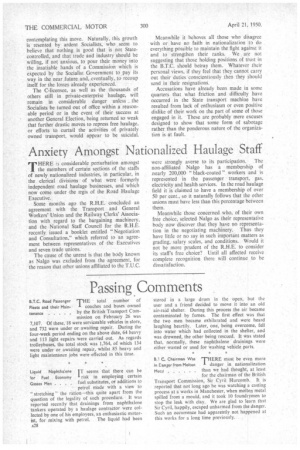 Page 29, 21st April 1950 —
Transport Tool Being Blunted
Close
TRANSPORT has always Some Factors i been looked upon as one of the most important Competition B tools of trade and industry, and State R in addition to being an essential and a convenience to the public. Under private enterprise, it met these requirements in a manner which called for much praise and tittle criticism. On the road transport side, this was achieved even while producing a reasonably satisfactory profit to the majority of those engaged in the business on both the haulage and public passenger transport sides.
The operators were mostly skilled in their art, their employees were, and still are in the freetransport sphere, well satisfied, as is proved by the many years during which extremely little trouble has occurred as the result of strikes or other labour dissension. If a man were dissatisfied he had the option of choosing another employer in either the long-distance or short-distance field, or he might go to a C-licensee. Promotion was by merit, and many of the executives earned high remuneration.
Competition gave the opportunity to those who had freight to be carried to choose their hauliers. and they were thus able to pick those who gave them the most reliable transport and earliest delivery. There have been unwise operators who cut rates, but in most cases these automatically fell by the wayside or were unable to maintain their vehicles in a condition satisfactory to their customers.
Quality of Service Deteriorating Nationalization of important' sections of road transport means that this essential -tool of industry has been largely wrested from the hands of those who knew best how to employ it, and the tool has, in many instances, been blunted, so that the quality of the service has deteriorated. Costs have risen and users fail to appreciate the bureaucratic methods and form-filling which appear to be inseparable from any Government institution.
Hundreds of the executives formerly employed in private-enterprise concerns have lost their positions, and some have perforce accepted posts in the new set-up, often at lower salaries. Certain of these have already discovered that the n the Growing limitations upon their initiative have been such. that they have etween Private resigned rather than remain as oad Services mere cogs in a vast machine.
Others, although disgruntled, are remaining in the national service because their .wbole business life is concerned with transport, and the prospect of positions outside the scope of this is not at present encouraging.
When the Transport Bill was before Parliament, few' of the Members of that august body, and certainly, none of the people in the industry or -the public, realized to what a great extent nationalization would soon penetrate into what appeared on the surface as likely to remain the prerogatives of private enterprise. The general opinion was that the State would concern itself only, with long-distance transport, except where railway-owned fleets were in question.
Competition in" Excluded" Field The list of exempted traffics and types of vehicle seemed, when the Bill was under review, to he reasonable safeguards against such incursions as are now occurring in considerable numbers. Furniture removals, the carriage of liquids in bulk, the employment of special vehicles for exceptional _loads, and transport within the 25-mile radius. appeared to be inviolable.. Most people did not realize that in accepting the offers, of sale of 'certain complete fleets and in the requisitioning of others in which work was mainly long-distance, the State would automatically find itself in possession of vehicles and services which could enter into direct competition in the already limited field of private enterprise. In this respect it might well be said that the Nation, and thoie particularly concerned in the matter, have' been deluded. The penetration thus permitted may be in the nature of a cold" war, but it is none the less serious.
To combat it, free transport has as its main weapon, the charging of reasonable rates and the giving of service with which nationalized transport may possibly be unable to compete, but, obviously, a certain proportion of loads must be lost to the latter.
In view of these facts, it is not at all surprising that increasing numbers of traders in many businesses are operating their own vehicles, or contemplating this move. Naturally, this growth is resented by ardent Socialists, who seem to believe that nothing is good that is not Statecontrolled, and that trade and industry should be willing, if not anxious, to pour their money into the insatiable hands of a Commission which is expected by the Socialist Government to pay its way in the near future and, eventually, to recoup itself for the losses already experienced.
The C-licensee, as well as the thousands of others still in private-enterprise haulage, will remain in considerable danger unless the Socialists be turned out of office within a reasonable period or in the event of their success at another General Election, being returned so weak that further drastic moves to repress free haulage, or efforts to curtail the activities of privately owned transport, would appear to be suicidal. Meanwhile it behoves all those who disagree with or have no faith in nationalization to do everything possible to maintain the fight against it and to strengthen their ranks. We are not suggesting that those holding positions of trust in the B.T.C. should betray them. Whatever their personal views, if they feel that they cannot carry out their duties conscientiously then they should send in their resignations.
Accusations have already been made in some quarters that what friction and difficulty have occurred in the State transport machine have resulted from lack of enthusiasm or even positive dislike of their work on the part of some of those engaged in it. These are probably mere excuses designed to show that some form of sabotage rather than the ponderous nature of the organization is at fault.