A New Simms Injection Pump
20th September 1935
Page 62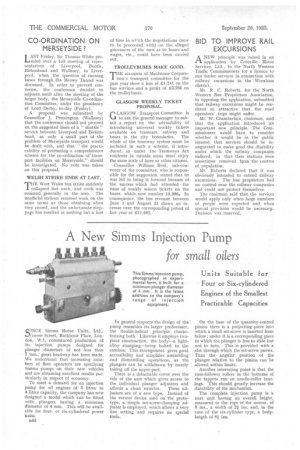 Page 62, 20th September 1935 —
A New Simms Injection Pump
Close
for small oilers SINCE Simms Motor Units, Ltd., Gresse Street, Rathbone Place, London, W.1, commenced production of its injection pumps designed for plunger diameter's of not less than 7 min., great headway has been made. We understand that increasing numbers of fleet operators are specifying SiplITIS pumps on their new vehicles and are obtaining excellent results particularly in respect of economy.
To meet a demand for an injection pump for oil engines of 3 litres to 4 litres capacity, the company has now designed a model which can be fitted with plungers having a minimum diameter of 4 mm. This will be available for fouror six-cylindered power units. _In general respects the design of the pump resembles its larger predecessor, the double-helical principle characterizing both. Likewise it employs twopiece construction, the body—a lightalloy stAmping—being bolted to the cambox. This arrangement gives good accessibility and simplifies assembling and dismantling operations, as the plungers can be withdrawn by merely taking off the upper part.
There is a detachable cover over the side of the unit which gives access to the individual plunger adjusters and
affords a clean exterior. These adjusters are of a new type. Instead of the vernier device used on the prototype, a simple set-screw-clamping adjuster is employed, which allows a very fine setting and requires no special tools. On the base of the quantity-control pinion there is a projecting piece into which a small set-screw is inserted from below; under it is a corresponding piece in which the plunger is free to slide but not to turn. This is provided with a slot through which the set-screw passes. Thus the angular position of the plunger relative to the pinion can be altered within limits.
Another interesting point is that the cam-follower rollers in the bottoms of the tappets run on needle-roller bearings. This should greatly increase the durability of the mechanism.
The complete injection pump is a neat unit having an overall height, measured to the tops of the anions. Of 8 ins., a width of 21 ins, and, in the case of the six-cylinder type, a bodylength of 8i ins.