Reflections on a Visit to America
20th September 1935
Page 55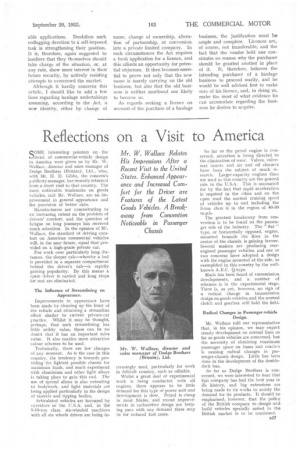 Page 55, 20th September 1935 —
Reflections on a Visit to America
Close
Keywords :
SCOME interesting pointers on the trend of commercial-vehicle design in America were given us by Mr. W. Wallace, director and sales manager of Dodge Brothers (Britain), Ltd., who, with Mr. H. D. Gibbs, the concern's publicity manager, has recently returned from a short visit to that country. Tim most noticeable tendencies on goods vehicles, said Mr. Wallace, are an improvement in general appearance and the provision of better cabs.
Manufacturers are concentrating to an increasing extent on the problem of drivers! comfort, and the question of fatigue on long journeys has received much attention. In the opinion of Mr. Wallace, the standard of driving comfort on American commercial vehicles will, in the near future, equal that. provided on a high-grade private car.
For work over particularly long distances, the sleeper cab—whereby a bed is provided in a separate compartment behind the driver's cab—is rapidly gaining popularity. By this means a spare driver is carried and long stops for rest are eliminated. '
The Influence of Streamlining on Appearance.
Improvements in appearance have been made by cleaning up the front of the vehicle and obtaining a streamline effect similar to current private-car practice. Whilst it may be thought, perhaps, that such streamlining has little utility value, there can be no doubt that it has an important sales value, It also enables more attractive colour schemes to be used.
Technically, there are few changes of any moment, As is the case in this country, the tendency is towards providing the lightest possible chassis for maximum loads, and much experiment with aluminiuin and Other light alloys is taking place to gain this end. The use of special alloys is also extending to bodywork, and light materials are being applied particularly in the design of tankers and tipping bodies,
Articulated vehicles are favonred by operators in the U.S.A. and: in the S-10-ton class, six-wheeled machines with all six wheels driven are being in creasingly used, particularly for work in difficult country, such as oilfields.
Whilst a great deal of experimental work is being conducted with oil engines, there appears to be little demand for this type of power unit and development is slow. Petrol is. cheap
in' most States, and recent improvements in carburetter design are keep
ing pace with any demand there may be for reduced fuel costs.
So far as the petrol engine is concerned, attention is being directed to the elimination of wear. Valves, Valveseat inserts and air. and oil cleanes have been the subject of much research. Larger-capacity engines thaa are used in this country are the general rule in the U.S.A. This is accounted for by the fact that rapid acceleration is 'required in the cities and on the open road the normal cruising sped of vehicles up to and including the 3-ton class is in the region of 404i0
The greatest breakaway from convention is to be found on the passenger side of the industry. The " flat" type, or horizontally opposed, engine, mounted beneath the floor in the centre of the chassis, is gaining favour. Several makers are . producing rearengined passenger vehicles, and one or two concerns have adopted a design with the engine mounted at the side, as exemplified in this country by the wellknown A.E.C. Q-type.
Much has been heard a transmission developments, and a number of achentes is in the experimental stage. There is, as yet, however, no sign of a radical change in transmission design on goods vehicles, and the normal clutch and gearbox still hold the field.
Radical Changes in Passenger-vehicle Design.
Mr. Wallace told our representative that, in his opinion, we may expect steady development on normal lines ao far as goods vehicles are concerned, but the necessity of obtaining maximum passenger space on buses and coaches is causing radical changes in passenger-chassis design. Little has been done in the development of the doubledeck bus.
So far as Dodge Brothers is concerned, we were. interested to hear that 'this company has had the best year in its history, and big extensions are being made to its works to satisfy the demand for its products. It should be emphasized, however, that the policy of the British' company to. design. and build vehicles specially suited to the British market is to be continued.