The Southport Conference
20th September 1935
Page 44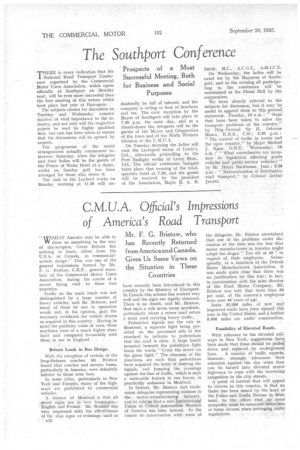 Page 44, 20th September 1935 —
The Southport Conference
Close
'THERE is every indication that the National Road Transport Conference organized by the Commercial Motor Users Association, which opens officially at Southport on Monday next, will be even more successful than the first meeting of this nature which took place last year at Harrogate.
The subjects chosen for discussion on Tuesday and Wednesday concern matters of vital importance to the industry, and not only will the respective papers be read by highly qualified men, but care has been taken to ensure that the discussions will be opened by experts. The programme of the social arrangements actually commences tomorrow, Saturday, when the delegates and their ladies will he the guests of the Prince of Wales Hotel at a. dance, whilst on Sunday golf has been arranged for those Who desire it.
The visit to the Leyland works on Monday morning at 11.30 will un doubtedIy be full of interest, and the company is acting as host at luncheon and tea. The civic reception by the Mayor of Southport will take place at 7.30 p.m. the same day, and at a dinner-dance the delegates will be the guests of the Mayor and Corporation of the town and of the North Western Division of the C.M.TI.A.
Oa Tuesday morning the ladies will visit the Liverpool storesof Lewis's, Ltd., afterwards proceeding to the Port Sunlight works of Lever Bros., Ltd. The official conference banquet takes place that evening at the headquarters hotel at 7.30, and the guests will be received by the president of the Association, Major R. A. B. Smith, M.C., A.C.G.I., A.M.I.C.E.
On Wednesday, the ladies will be cared for by the Mayoress of Southport, and in the evening all participating in the conference will be entertained at the Floral Hall by the corporation.
We have already referred to the subjects for discussion, but it may be useful to append them to this general statement. Tuesday, 10 a.m. : " Steps that have been taken to solve the transport problems of the country," by Brig.-General Sir II. Osborne Mance, K.13.E., C.13.; 2.30 p.m. : " The control of traffic in townsand the open country," by Major Michael J. Egan, O.B.E. Wednesday, 10 a.m.:* " What amendments are necessary to legislation affecting goods vehicles and public-service vehicles? by Mr. Henry Backhouse, Junr.; 2,30 "Rationalization of distributive road transport," by Colonel Arthiir Jerrett.