WHEELS OF INDUSTRY
20th September 1935
Page 38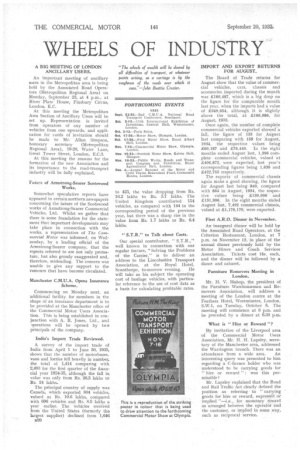 Page 39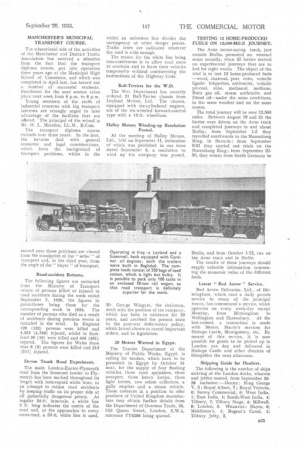 Page 40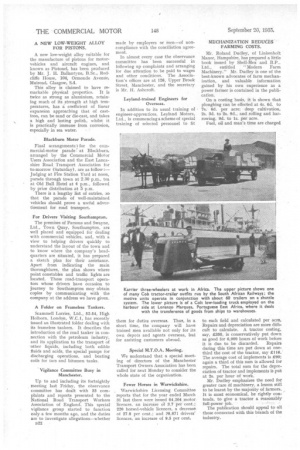 Page 41
Page 38, 20th September 1935 —
WHEELS OF INDUSTRY
Close
Keywords :
A BIG MEETING OF LONDON ANCILLARY USERS.
An important meeting of ancillary users in the Metropolitan area is being held by the Associated Road Operators (Metropolitan Regional Area) on Monday, September 23, at 4 p.m., at River Plate House, Finsbury Circus, London, EC.
At this meeting the Metropolitan Area Section of Ancillary Users will be set up. Representation is invited from operators of any number of vehicles from one upwards, and application for cards of invitation should be made to Mr.. Allan Simpson, honorary secretary (Metropolitan Regional Area), 19-20, Water Lane, Great Tower Street, London, E.C.3.
At this meeting the reasons for the formation of the new Association and its importance to the road-transport industry will be fully explained.
Futon of Armstrong-Saurer Scotswood
Works.
Somewhat speculative reports have appeared in certain northern newspapers concerning the .future of the Scotswood works of Armstrong-Saurer Commercial Vehicles, Ltd. Whilst we gather that there is. some foundation for the statement that important developments may take place in connection with the works, a representative of The Commercial Motor was inforrned, on Wednesday, by a leading official of the Armstrong-Saurer company, that the reports referred to are not only premature, but also grossly exaggerated and, therefore, misleading. The concern was unable to give any support to the rumours that have become circulated.
Manchester C.M.U.A. Opens Insurance Scheme.
Commencing on Monday next, an additional facility for members in the shape of an insurance department is to be provided at the. Manchester office of the Commercial Motor Users Association. This is being established in conjunction with A. R. Jones, Ltd., and nperations will be opened by two principals of the company.
India's Import Trade Reviewed.
A survey of the import trade of India from April 1 to June 30, 1935, shows that the number of motorbuses. vans and lorries fell heavily in number, the total of 1,414 comparing with 2,493 for the first quarter of the financial year 1934-35, although the fall in value was only from Rs. 26.5 lakhs to Rs. 24 lakhs..
The principal country of Supply was Canada, which exported 804 vehicles, valued at Rs. 10.6 lakhs,. compared With 696 vehicles and Rs. 8.5 lakhs a year earlier. The vehicles received• from the United States (formerly the largest supplier) 'declined from 1,646
B20 to 423, the value dropping from Rs. 16.2 lakhs to Rs. 5.7 lakhs. The United Kingdom contributed 154 vehicles, as compared with 144 in the corresponding period of the previous year, but there was a sharp rise in the value from Rs. 1.7 lakhs to Rs. 6.4 lakhs.
" S.T.R." to Talk about Costs.
Our special contributor, " S.T.R.," well known in connection with our regular feature, "Solving the Problems of the Carrier," is to deliver an address to the Lincolnshire Transport Association, at the Royal Hotel, Scunthorpe, to-morrow evening. He will take as his subject the operating cost of haulage vehicles, with particular reference to the use of cost data as a basis for calculating profitable rates.
IMPORT AND EXPORT RETURNS FOR AUGUST.
The Board of Trade returns for August show that the value of commercial vehicles, cars, chassis and accessories imported during the month was £180,487, which is a big drop on the figure for the comparable month last year, when the imports had a value of £349,654, although it is slightly above the total, at £166,986, for August, 1933.
Once again; the number of complete commercial vehicles exported showed a fall, the figure of 135 for August last comparing with 158 for August, 1934, the respective values being £60,187 and £76,440. In the eight months ended August last, 1,396 complete commercial vehicles, valued at £406,872, were exported, last year's corresponding figures being 1,639 and £422,755 respectively.
The exports of commercial chassis again make a good showing, the figure for August last being 640, compared with 864 in August, 1934, the respective values being £139,006 and £131,996. In the eight months ended August last, 7,492 commercial chassis, valued at £1,176,170, were exported.
First A.R.O. Dinner in November.
An inaugural dinner will be held by the Associated Road Operators, at the Criterion Restaurant, London, at 7 p.m. on November 12, in place of the annual dinner previously held by the Motor Hirers and Coach Services Association. Tickets cost 15s. each, and the dinner will be followed by a dance and cabaret.
Furniture Removers Meeting in London.
Mr. H. V. Bishop, the president of the Furniture Warehausemen an Removers Association, will address a meeting of the London centre at the Feathers Hotel, Westminster, London, S.W.1, on Tuesday, October 8. The meeting will commence at 8 p.m. and be preceded. by a dinner at 6.30 p.m.
What is "Hire or Reward "?
By invitation of the Liverpool area of the Commercial Motor Users Association, Mr. H. H. Lapsley, secretary of the Manchester area, addressed the Warrington branch. There was an
attendance from a wide area. An interesting query was presented to him regarding a C-licence holder who was understood to he carrying goods for " hire or reward " : was this permissible?
Mr. Lapsley explained that the Road and Rail Traffic Act clearly defined the position as referring to "carrying goods for hire or reward, expresse'd or implied "—i.e.,. for Planetary . reward 'as arranged between the operator and the customer, or implied in some way,
such as reciprocal service. • MANCHESTER'S MUNICIPAL TRANSPORT COURSE.
The educational side of the activities of the Manchester and District Traffic Association has received a stimulus from the fact that the transport diploma course, put into operation three years ago at the Municipal High School of Commerce, and which was completed in April last, has turned out a number of successful students. Enrolment for the next session takes place next week from 6 p.m. to 8 p.m.
Young members of the staffs of industrial concerns with big transport interests are strongly urged to take advantage of the facilities that are offered. The principal of the school is Mr. H. L. Marsden, LL.M" B.Com.
The transport diploma course extends over three years. In the first, the lectures deal with general economic and legal considerations, which form the backgrolind of transport problems, whilst in the second year those _problems are viewed from the standpoint of the" seller" of transport and, in the third year, from the angle of the " buyer " of transport.
Road-accident Returns.
The following figures are extracted from the Ministry of Transport return of persons killed or injured in road accidents during the week ended September 7, 1935, the figures in parentheses being those for the corresponding week in 1934. The number of persons who died as a result of accidents during previous weeks is included in the total. In England 120 (132) persons were killed and 4,255 (4,706) injured, whilst in Scotland 20 (19) were killed and 445 (451) injured. The figures for Wales show that 8 (9) persons were killed and 213 (211) injured.
Devon Trunk Road Experiment.
The main London-Exeter-Plymouth road from the Somerset border to Plymouth has been marked throughout its length with interrupted white lines, in an attempt to reduce road accidents by keeping traffic on its proper side at all potentially dangerous points. At regular 24-ft. intervals, a white line 2 ft. long indicates the centre of the road and, at the approaches to every cross-road, a 50-ft. white line is used, whilst an unbroken line divides the carriageway at other danger points. Traffic lanes are indicated wherever the road is wide enough.
The reason for the white line being non-continuous is to allow road users to overtake and to leave their vehicles temporarily withbut contravening the instructions of the Highway Code, Bull-Terriers for the W.D.
The War Department has recently ordered 21 Bull-Terrier chassis from Leyland Motors, Ltd. The chassis, equipped with six-cylindered engines, are of the six-wheeled forward-control type with a 13-ft. wheelbase.
Halley Motors Winding-up Resolution Passed.
At the meeting of Halley Motors, Ltd., held on September 11, intimation of which was published in our issue dated September 6, a resolution to wind up the company was passed.
Operating in Iraq—a Leyland and a Scammell, both equipped with Gardner oil engines; both the trailers were built in Baghdad. The complete loads consist of 550 bags of seed cotton, which is light but bulky. It is possible to pack only 100 sacks in an enclosed 10-ton rail wagon, so that road transport is definitely
superior for the work.
Mr. George Wingate, the chairman, dealt with the position of the company, which has been in existence for 29 years, and ascribed the present state to the post-war deflationary policy, which forced clients to cancel important orders, and to legislation.
20 Motors Wanted in Egypt.
The Tanzim Department of the Ministry of Public Works, Egypl, is calling for tenders, which have to be presented in Egypt by October 31 next, for the supply of four flushing vehicles, three road sprinklers, three sweepers, three heavy lorries, three light lorries, two refuse collectors, a gully emptier and a . steam vehicle. Those concerns in a position to offer' products of United Kingdom manufacture may obtain further details from the Department of Overseas Trade, 35, Old Queen Street, London, S.W.1, reference TY5286 being quoted. TESTING 12 HOME-PRODUCED FUELS ON 12,500-MILE JOURNEY.
The Avus motor-racing track, just outside Berlin, presented an unusual scene recently, when 43 lorries started on experimental journeys that are to last for eight weeks. The object of the trial is to test 12 home-produced fuels —wood, charcoal, peat coke, volatile lignite briquettes, anthracite, volatile pit-coal, coke, methanol, methane, Ruhr gas oil, steam anthracite and Diesel oil—under the same conditions, in the same weather 'and on the same routes. .
• The total journey will be over 12,500 miles. Between August 19 and 31 the lorries were driven on the Avus track and completed journeys in and about Berlin ; from September 1-5 they travelled southwards to the Nuremburg Ring, in Bavaria; from September 43-21 they carried out trials on the Nuremburg Ring; from September 2230, they return from South Germany to Berlin, and from October 1-12, run on the Avus track and in Berlin.
The results of these journeys should supply valuable information concerning the economic value of the different fuels.
Latest " Red Arrow " Service.
,Red Arrow Deliveries, Ltd., of Birmingham, which runs a daily parcels service to many of the principal towns, has commenced a service, which operates on every week-day except Monday, from Birmingham to Wellington and Shrewsbury. At the last-named, a connection is made with Messrs. Harris's services for Bishops Castle, Montgomery, etc. By means of this service, it is now possible for goods to be picked up in London one day and delivered in Bishops Castle and other districts of Shropshire the next afternoon.
Shipping Guide for Hauliers.
The following is the number of ships arriving at the London docks, wharves and jetties named, from September 2028 inclusive :----Docits : Ring George V, 5; Royal Albert, 7; Royal Victoria, 6; Surrey Commercial, 6; West India, 1; East India, I; South-West India, 4; Tilbury, 7; Tilbury Stage, 4; Millwall, 8; London, 3. WitaavEs : Hayes, 6; Middleton's, 1; Regent's Canal, I; Tilbury Jetty, 2.
A NEW LOW-WEIGHT ALLOY FOR PISTONS.
A new low-weight alloy suitable for the manufacture of pistons for motorvehicles and aircraft engines, and, known as Pistonel, has been produced by Mr. J. H. Ballantyne, B.Sc., Redcliffe House, 104, Ormonde Avenue, Muirend, Glasgow, 5.4.
This alloy is claimed to have remarkable physical properties. It is twice as strong as aluminium, retaining much of its strength at high temperatures, has a coefficient of linear expansion approaching that of castiron, can be sand or die-cast, and takes a high and lasting polish, whilst it is practically immune from corrosion, especially in sea water.
Blackburn Motor Parade.
Final arrangements) for the comraercial-motor parade': at Blackburn, arranged by the Commercial Motor Users Association and the East Lancashire Road. Transport Association for to-morrow (Saturday), are as follow :— Judging at Fire Station Yard at noon, parade through town at 2.30 p.m., tea at Old Bull Hotel at 4 p.m., followed by prize distribution at 5 p.m.
There is a lengthy list of entries, so that the parade of well-maintained vehicles should prove a useful advertisement for road transport.
For Drivers Visiting Southampton.
The premises of Parsons and Swa.yne, Ltd., Town Quay, Southampton, are well placed and equipped for dealing viiith commercial vehicles, and, with a view to helping drivers quickly to understand the layout of the town and• to know where the company's headquarters are situated, it has prepared a sketch plan for their assistance. Apart from indicating the main thoroughfares, the plan shows where point constables and traffic lights are located. Those road-transport operators whose drivers have occasion to journey to Southampton may obtain copies by communicating with the company at the address we have given.
A Folder on Frameless Tankers.
Scamrnell Lorries, Ltd., 52-54, Higii Holborn, London, W,C.1, has recently issued an illustrated folder dealing with its frameless tankers. It describes the introduction of the road tanker in connection with the petroleum industry, and its application to the transport of -other liquids, including both edible fluids and acids, the special pumps for discharging operations, and heating coils for tars and bitumen tanks.
Vigilance Committee Busy in Manchester.
Up to and including its fortnightly meeting last Friday. the observance committee has dealt with 33 complaints and reports presented to the National Road Transport Workers Association of England. This special vigilance group started to function only a few months ago, and the duties are to investigate allegations—whether n22 made by employers or men—of noncompliance with the conciliation agreement.
In almost every case the observance committee has been successful in following up complaints and arranging for due attention to be paid to wages and other conditions. The Association's offices are at 126, Upper Brook Street, Manchester, and the secretary is Mr, H. Ashcroft.
Leyland-trained Engineers for Overseas.
In addition to its usual training of engineer-apprentices, Leyland Motors, Ltd., is commencing a scheme of special training of selected personnel to fit
them for duties overseas. Thus, in a short time, the company will have trained men available not only for its own depots and agents overseas, but for assisting customers abroad.
Special M.T.O.A. Meeting.
We understand that a special meeting of directors of the Manchester Transport Owners Association has been called for next Monday to consider the whole state of the organization.
Fewer Horses in Warwickshire.
Warwickshire Licensing Committee reports that for the year ended March 31 last there were issued 64,304 motor licences, an increase Of 3.7 per cent; 220 horsed-vehicle licences, a decrease of 27.8 per cent; and 28,871 drivers' licences, an increase of 9.5 per cent.
MECHANIZATION REDUCES FARMING COSTS.
Mr. Roland Dudley, of Linkenholt Manor, Hampshire, has prepared a little book issued by Shell-Mex and B.P. Ltd., entitled "Modern Farm Machinery." Mr. Dudley is one of the best-known advocates of farm mechanization, and valuable information gained by his own experience as a power farmer is contained in the publication.
On .a costing basis, it is shown that ploughing can be effected at 4s. 6d. to 7s, 6d. per acre; deep cultivation, 2s. 3d. to 2s. 9d., and rolling and harrowing, 9d. to ls. per acre.
Fuel, oil and man's time are charged
to each field and calculated per acre, Repairs and depreciation are more difficult to calculate. A tractor costing, say, £350, is conservatively put down as good for 6,000 hours of work before it is due to be discarded. Repairs during this time are put down at onethird the cost of the tractor, say £116.' The average cost of implements is £90; again a third of this sum is allowed for repairs. The total sum for the depreciation of tractor and implements is put at 2s. per hour of work. Mr. Dudley emphasizes the need for greater care Of machinery, a lesson still to be learnt by the majority of farmers. It is most economical, he rightly contends, to give a tractor a reasonably full-power job.
The publication should appeal to all those connected with this branch of the industry. FORTHCOMING A.R.O. MEETINGS IN THE NORTH-WEST.
The North-Western Area of Associated Road Operators has arranged meetings to be held at the Bull and Royal Hotel, Preston, at 7.30 p.m. to-day (Friday), and at St. Helens to-morrow, September 21. Next week meetings will be held on September 24, at the Exchange Hotel, Manchester ; September 25, United Services Club, Altrincham ; September 26, Stamford Cafe, Ashton-under-Lyne; and September 27, Victoria Hotel, Bolton. Each meeting will start at 7.30. p.m., and they have been arranged particularly for ancillary users. Mr. J. Wyndham Gibbs will speak on the present state of the haulage industry.
Completing the Exeter By-pass.
The . Minister of Transport has informed Devon County. Council that he is prepared to make a grant from the Road Fund for the completion of the Exeter by-pass, two-thirds of which is already completed and open to traffic. Work on the _remaining section will be started immediately and by the end of next. year. it is expected that the whole bypass (nearly five miles long) will be in use. The last section is calculated to cost about £110,000, and bring the total expenditure to over £200,000.
. Blackpool's Latest Fire-engine at Fire Chiefs' Conference.
The Leyland fire-engine recently delivered to Blackpool Corporation has. been on view at the annual conference of the Institute of Fire Engineers, which closes at Sheffield. to-day (Friday). The machine is equipped with a 500-600 g.p.m. pump, an auxiliary first-aid tank of GO gallons capacity, a 35-ft. ladder, a pole ladder and a folding-hook ladder. Solenoid equipment automatically starts up the engine the moment the tire alarm is sounded.
New Mobile "Vacuum Cleaner."
Trials have recently been made in Hanover, Germany, with a streetcleaning machine working in the same manner as a domestic vacuum cleaner. The machine is over 2i yds. wide and
travels at 91-12i m.p.h. The containers accommodate about a ton of fine dust and 3 tons of wet refuse, to collect which takes about six hours.
The machine, which was built at the instigation of the Hanover Town Street-cleaning Board, was shown for the first time at the second International Street-cleaning Congress recently held at Frankfurt.
Nearly £1,000,000 for Aberdeenshire Roads.
Aberdeen County Road Board, on September 6, approved a four-years' programme of road improvements for 1936-1940, estimated to cost £904,876. Of this total, £441,469 will be for work on unclassified roads and £354,790 for work on Class 1 roads.
The clerk intimated that the Ministry of Transport was to make a grant of 50 per cent, towards the county's expenditure this year of £57,580 on unclassified roads, and 75 per cent. on its expenditure of £68,620 on improvements on Class 1 roads. In addition it was to receive a 60 per cent, grant on an estimated expenditure of £43,072 on Class 1 roads and bridges and 50 per cent. of £51,573 spent on Class 2 roads and bridges. The total grants came to £131,973 on a total expenditure of £221,025.
Personal Pais.
Bradford City Council has nominated Mr. J. Russell Rose, head of the Central Garage, Ltd., the Bradford concern of dealers in commercial vehicles, for appointment as a Traffic Commissioner for the Yorkshite •Area.
We are officially informed that the engagement of Mr. Howard Robinson as secretary of the coachowners section of the Manchester Transport Owners Association ceased this week, also his connection as secretary of the passenger-vehicle . licensing scheme. The latter is now in the hands (along with the goods-vehicle licensing scheme) at Mr. H. H. Lapsley, secretary of the Commercial Motor Users Association
Manchester area. Mr. Robinson remains secretary of the North-Western Conciliation Board.
C.M.U.A. PROGRESS AT ST. HELENS.
"Fifteen new members in 10 days" was one of the announcements made, on Monday evening, by Mr. S. Preece, organizer for the Commercial Motor Users Association in Liverpool and Manchester, when he addressed a meeting at St. Helens under the chairmanship of Mr. J. Austin Baker, M.I.Mech-Ea transport manager of Pilkington Bros., Ltd., St. Helens. . Mr. Baker was elected chairman, Mr. A. M. Hale, vice-chairman, Mr. E. L. Foster (Greenall, Whitley and Co., Ltd.), temporary hon. secretary, and MOSS)10. T. Garner (St. Helens), A. Taylor (Ralphson, Taylor and Co.), W. Bridge (J. Bridge (St. Helens), Ltd.), F. Smith (Knowsley) and C. Fishvvick
(St. Helens) as the committee. It was arranged to meet in future on the first Monday of each month at the Fleece Hotel, St. Helens, Laystall Liner Progress.
The Laystall Motor Engineering Works, Ltd., Ewer Street, London, S.E.1, advises us that Laystall hardened-steel cylinder liners are now supplied to any concern in the trade having adequate machine equipment for fitting at their own premises. It may be called to mind that these liners are inserted in the same way as castiron liners and can replace the latter, if desired. Laystall liners, ready for fitting, can be supplied for all sizes of commercial-vehicle engine, and the company tells us that there is an increasing demand for liners suitable for oilers.
Tags
Organisations
:
Tanzim Department
,
Commercial Motor Users Association Manchester
,
Warwickshire Licensing Committee
,
Bradford City Council
,
Lincolnshire Transport Association
,
War Department
,
Removers Association
,
Municipal High School of Commerce
,
North-Western Conciliation Board
,
Institute of Fire Engineers
,
District Traffic Association
,
Young
,
Aberdeen County Road Board
,
Commercial Motor Users Association
,
Hanover Town Street-cleaning Board
,
Manchester Transport Owners Association
,
Congress
,
Ministry of Public Works
,
Department of Overseas Trade
,
National Road Transport Workers Association of England
,
Road Fund
,
Motor Hirers and Coach Services Association
,
United Services Club
,
Ministry of Transport
,
Licensing Committee
People
:
F. Smith
,
J. Austin Baker
,
Royal Victoria
,
MILE JOURNEY
,
Allan Simpson
,
George Wingate
,
J. H. Ballantyne
,
Howard Robinson
,
Tilbury Stage
,
A. M. Hale
,
Roland Dudley
,
Ring George V
,
H. L. Marsden
,
J. Wyndham Gibbs
,
J. Russell Rose
,
E. L. Foster
,
Millwall
,
Royal Albert
,
H. V. Bishop
,
H. H. Lapsley
Locations
:
Preston
,
Southampton
,
Sheffield
,
South Germany
,
Birmingham
,
Bradford
,
Liverpool
,
Plymouth
,
Manchester
,
Exeter
,
Berlin
,
Baghdad
,
Frankfurt
,
Glasgow
,
Hanover
,
LONDON
,
Wellington
,
Shrewsbury