One Hears
20th September 1935
Page 37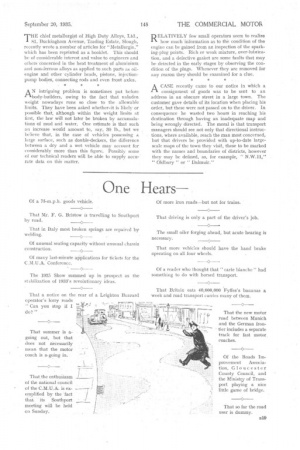 Page 37, 20th September 1935 —
One Hears
Close
Keywords :
Of a 75-in.p.h. goods vehicle.
That Mr. F. G. Bristow is travelling to Southport by road.
That in Italy most broken springs are repaired by welding.
Of unusual seating capacity without unusual chassis construction.
Of many last-minute applications for tickets for the C.M. V.A. Conference.
The 1935 Show summed up in prospect as the stlbilization of 1933's revolutionary ideas.
That a notice on the rear of a Leighton Buzzard operator's lorry reads " Can you stop if I do? "
That summer is agoing out, but that does not necessarily mean that the motor coach is a-going in.'.
That the enthuSiasm of the national council of the C.M.U.A. is ex—7emplified by the fact that its Southport meeting will be held on Sunday. Of more iron roads but not for trains.
That driving is only a part of the driver's job.
The small oiler forging ahead, but acute hearing is necessary.
That more vehicles should have the hand brake operating on all four wheels.
Of a reader who thought that "carte blanche" had something to do with horsed transport.
That Britain eats 40,000,000 Fyffes's bananas a week and road transport carries many of them.
That the new motor road between Munich and the German frontier includes a separate track for fast motor coaches.
Of the Roads Improvement Association, Gloucester County Council, and the Ministry of Transport playing a nice little game of bridge.
That so far the road user is dummy.