Propaganda for Road Transport
20th September 1935
Page 36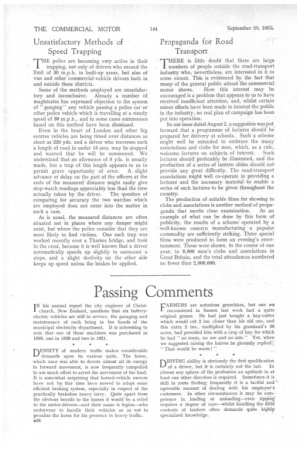 Page 36, 20th September 1935 —
Propaganda for Road Transport
Close
THERE is little doubt that there are large i numbers of people outside the road-transport industry who, nevertheless, are interested in it to some extent. This is evidenced by the fact that many of the general public attend the commercial motor shows. How this interest may be encouraged is a problem that appears to us to have received insufficient attention, and, whilst certain minor efforts have been made to interest the public in the industry, no real plan of campaign has been put into operation.
In our issue dated August 2, a suggestion was put forward that a programme of lectures should be prepared for delivery at schools. Such a scheme might well be extended to embrace the many associations and clubs for men, which, as a rule, welcome lectures on subjects of interest. Such lectures should preferably be illustrated, and theproduction of a series of lantern slides should not provide any great difficulty. The road-transport associations might well co-operate in providing a lecturer and the necessary material to enable a series of such lectures to be given throughout the country.
The production of suitable films for showing to clubs and associations is another method of propa ganda that merits close examination. As an example of what can be done by this form of publicity, •the results of a scheme operated by a well-known concern manufacturing a popular commodity are sufficiently striking. Three special films were produced to form an evening's entertainment. These were shown, in the course of one year, to 8,000 men's clubs and associations in Great Britain, and the total attendances numbered no fewer than 2,000,000.