ONE HEARS
20th October 1925
Page 3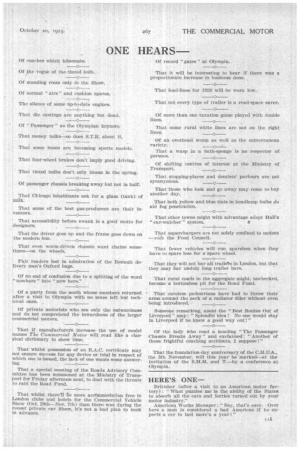 Page 3, 20th October 1925 —
ONE HEARS
Close
Of coaches which hibernate.
Of the vogue of the tinted bulb.
Of standing room only in the Show.
Of normal " airs " and cushion spares.
The silence of some up-to-date engines. That die castings are anything but dead. Of " Passenger " as the Olympian keynote, That money talks—so does S.T.R. about it. That some buses are becoming sports models.
That four-wheel brakes don't imply good driving.
That tinted bulbs don't only bloom in the spring.
Of passenger chassis breaking away but not in half.
That Chicago inhabitants ask for a glass (tank) of milk.
That some of the best gas-producers are their in ventors. 0 That accessibility before swank is a good motto for -designers.
That the driver goes up and the frame goes down on the modern bus.
That even worm-driven chassis want chains sometimes—on the wheels.
Fair readers lost in admiration of the Renault delivery men's Oxford bags.
Of no end of confusion due to a splitting of the word " nowhere " into "now here."
• Of a party from the north whose members returned after a visit to Olympia with no notes left but tech nical ones. 0 Of private motorists who see only the outwardness and do not comprehend the inwardness of the larger commercial motors.
That if manufacturers increase the use of model names The Commereicd Motor will read like a classical dictionary in show time.
That whilst possession of an R.A.C. certificate may not ensure success for any device or trial in respect of which one is issued, the lack of one wants some answer ing. 0 That a special meeting of the Roads Advisory Committee has been summoned at the Ministry of Transport for Friday afternoon next, to deal with the threats to raid the Road Fund.
That whilst there'll be more acebminodation free in London clubs and hotels for the Commercial Vehicle Show (Oct. 29th—Nov. 7th) than there was during the recent private car Show, it's not a bad plan to book in advance. Of record " gates" at Olympia.
That it will be interesting to hear if there was a proportionate increase in business done.
That load-lines for 1926 will be worn low.• That not every type of trailer is a road-space saver.
Of more than one taxation game played with double That some rural white lines are not on the right Of an overhead worm as well as the subterranean variety.
That a wasp in a bath-sponge is no respecter of persons. 0 Of shifting centres of interest at the Ministry of Transport. 0 That stopping-places and dentists' parlours are not synonymous.
That those who look and go away may come to buy another day. 0 That both yellow and blue tints in headlamp bulbs do aid fog penetration.
That other towns might with advantage adopt Hull's " car-watcher " system.
That superchargers are not solely confined to motors —ride the Food Council.
That fewer vehicles Will run spareless when they have to spare less for a -spare wheel.
• 0 That they will not bar all trailers in London, but that they may bar unduly long trailer bars.
That rural roads in the aggregate might, unchecked, become a bottomless pit for the Road Fund.
' That careless pedestrians have had to throw their arms around the neck of a radiator filler without even being introduced.
Someone remarking, anent .the "Best Routes Out of Liverpool" map: "Splendid idea! No one would stay in Liverpool if he knew a good way out ! "
Of the• lady who read a heading "The Passenger Chassis Breaks Away" and exclaimed : "Another of those frightful coaching accidents, I suppose! "
That the foundation-day anniversary of the C.M.U.A., the 5th November, will this year be marked—at the invitation of the S.M.M. and T.—by a conference at Olympia.