Motor Vehicles on British Postal Service.
20th November 1928
Page 39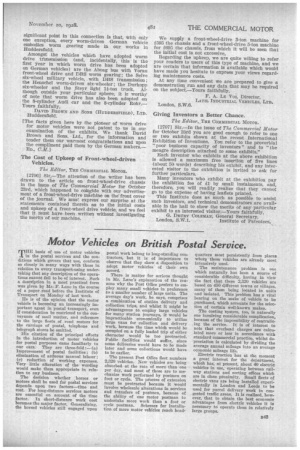 Page 39, 20th November 1928 —
Motor Vehicles on British Postal Service.
Close
THE basis of use of motor vehicles in the postal services and the conditions which govern that use, conform so closely in many ways with those in relation to every transport-using undertaking that any description of the operations cannot fail to be of interest. Such a description in a most practical form was given by Mr. F. Lane in the course of a paper read before the Institute of Transport on Monday of last week.
He is of the opinion that the motor vehicle is becoming an increasingly important agent in postal transport, even if consideration be restricted to the conveyance of mail matter, and reference to the large fleets of road motors for the carriage of postal, telephone and telegraph stores be omitted.
His citation of the principal effects in the introduction of motor vehicles for postal purposes came familiarly to our ears. They are three-fold :—(a) Improvement of postal facilities ; (b) elimination of arduous manual labour ; (c) reduction of working expenses. Very little alteration of the wording would make them appropriate in relation to any business.
The decision whether horses or motors shall be used for postal services depends upon two factors—time and cost. For long-distance services motors are essential on account of the time factor. In short-distance work cost becomes the major factor. Generalizing, the horsed vehicles still engaged upon
postal work belong to long-standing contractors, but it is of importance to observe that they show a disposition to adopt motor vehicles of their own accord.
There is matter for serious thought in Mr. Lane's explanation of the reasons why the Post Office prefers to employ many small vehicles in preference to a smaller number of large units. The average day's work, he says, comprises a combination of station delivery and collection trips, and whilst it might be advantageous to employ large vehicles for many station journeys, it would be impracticable economically to utilize large vans for collection and delivery work, because the time which would be occupied on a fully loaded trip of either character would be too protracted. Public facilities would suffer, since some deliveries would have to be made later and some collections would have to be earlier. •
The present Post Office fleet numbers 2,220 vehicles. New vehicles are being absorbed at the rate of more than one per day, and most of these are to mechanize work performed by postmen on foot or cycle. The process of extension must be protracted because it would involve wholesale alterations in services and transfers of postmen, because of the ability of one motor postman to undertake more work than a foot or cycle postman. Schemes for installation of more motor vehicles reach head
quarters most persistently from places whom those vehicles are already most intensively used.
The maintenance problem is one which naturally has been a source of considerable difficulty, having in view the fact that these 2,320 vehicles are based on 450 different towns or villages, many of them being located in units and isolated. This problem has a vital bearing on the make of vehicle to be purchased, which accounts for the selection of certain well-known makes.
The costing system, too, is naturally one involving considerable complication, because of the impossibility of centralising the service. It is of interest to note that overhead charges are calculated more or less in accordance with standard commercial practice, whilst depreciation is calculated by dividing the average annual mileage into an average economic mileage life.
Electric traction ha •s at the moment a great interest for the department, which has, at present, about 40 electric vehicles in use, operating between railway stations and sorting offices which are in close proximity. Small fleets of electric vans are being installed experimentally in London and Leeds to be used for parcel delivery work in congested traffic areas. It is realized, however, that to obtain the best economic advantages from electric vehicles it is necessary to operate them in relatively large groups.