Loose Leaves.
20th November 1928
Page 2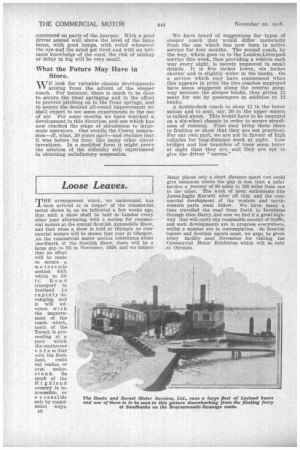 Page 3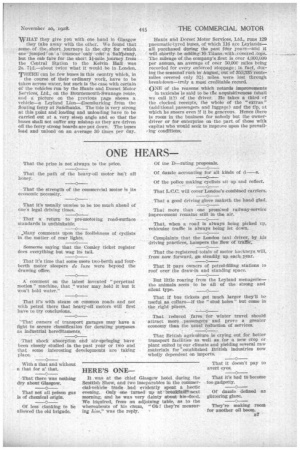 Page 2, 20th November 1928 —
Loose Leaves.
Close
MHE arrangement which, we understand, has
been arrived at in respeci: of the commercial, motor shows is, as we indicated a few weeks ago, that such a show Shall be held in -London every other year alternating with a section for commer
cial motors at the annual Scottish Automobile Show, and that when a show is held at Olympia no com
t. o ad transport in Scotland i s rapidly developing, and it will advance with the improvement of the roads which, north of the '11..veed, is proceeding at a pace which tile southerner ii n f a in iliar with his Scotland, • could not, realize or even understand. So much of the Hi ghland country is inaccessible, or
c c es si ble only by roundabout ways. Ea Many places only a short distance apart (we could give instances where the gap is less than a mile) involve a journey of 80 miles to 100 miles from one to the other. The work of keen enthusiasts like James Inglis Ker wilt alter all this, and the commercial development of the western and northwestern parts must follow. We have many a time travelled the road from Perth to Inverness through Glen Garry, and now we find it a great highway that will carry any reasonable amount of traffic, and such developments are in progress everywhere, whilst a number are in contemplation. So Scottish buyers and Scottish agents must, we urge, be given every facility next November for visiting the Commercial Motor Exhibition which will be held -at Olympia. WHAT they give you with one hand in Glasgow
they take away with the other. We found that some Of the _ short journeys le the city for which one jumped Thia. a: tramcar' only 'cdst a 'halipenna, but the cab fare forehe short 11-mile journey from the Central Station to the . Kelvin HAD was 2s. 71.1.—about twice what it would be in London.
THERE can be few buses in this country which, in the course of their ordinary work, have to be taken across water, but such is the case with certain of the vehicles run by the Hants and Dorset Motor Services, Ltd., on the Bournemouth-Swanage route; and a picture on the previous page shows a vehicle—a Leyland Lion—disembarkieg from the floating ferry at Sandbanks. Thetide is very strong at this point and loading and unloading have to be carried out at a very steep. angle and. so that the buses shall not suffer any mishap as they are driven off the ferry strong boards are' put down, The buses road and unload on an average 30 times per day. Hants and Dorset Motor Services, Ltd., runs 129 pneumatic-tyred buses, of which 110 are Leylandsall purchased during the past four years—and it will shortly be. adding 10 Titans ,with,covered.: topS. The mileage of the company's fleet is over 4,000,000 per annum, an average of over 50,000 miles being recorded for every enforced stoppage; in fact, during the seasonal rush in' August, out of 355,335 routemiles covered only 321 miles were lost through breakdown—truly a most creditable record.
ONE of the reasons. which retards improvements in taxicabs is said to be tile acquisitiveness (shall we call it?) of the driver. He takes a third of the clocked receipts, the whole of the extras" (additional passengers and luggage) and the tip, at which he sneers even If it be generous. Hence there is room in the business for nobody but the ownerdriver or far enterprise on the part, of those whit capitat who Would seek to improve upon the prevailingconditions,