A NOVEL PUBLICITY VAN.
20th November 1923
Page 51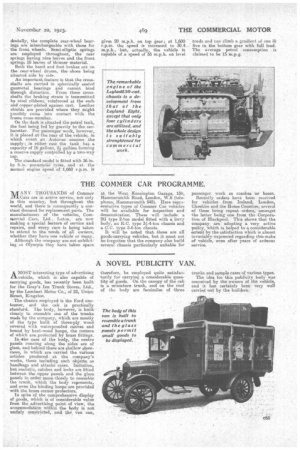 Page 51, 20th November 1923 —
A NOVEL PUBLICITY VAN.
Close
AMOST interesting type of advertising vehicle, which is also capable of carrying goods, has recently been built for the Gray's Inn Trunk Stores, Ltd., by the Lambert Motor Co., of 22, Union Street, Kingston.
The chassis employed is the Ford Onetonner, and the cab, is practically standard. The body, however, is built closely to resemble one of the trunks made by the company, which are mostly of the type built of three-ply wood covered with waterproofed canvas and bound by bent-wood hoops, the corners of which a.re.protected by brass fittings.
In the case of the body, the centre panels running along the sides are of glass, and behind these are shallow showcases, in 'which are carried the various articles produced at the company's works, these including such objects as handbags and attache cases. Imitation, but realistic, catches and locks are fitted between the -upper panels and the glass panels in order more closely to resemble the trunk, which the body represents, and even the binding hoops are provided with the braes corner protectors.
In spite of the comprehensive display of goods, which is of considerable relies from the advertising point of view, the accommodation within the body is not 'widely constricted, and the van can, therefore, be employed quite satisfaetorily for carrying a considerable quantity of goods. On the canopy of the cab is a. miniature trunk, and on the roof of the body are facsimiles of three trunks and sample cases of various typea.
The idea for this publicity body was conceived by the owners of the vehicle, arid it has certainly been very well carried out by the builders.