Tilting Cab is Standard on New White Models
20th May 1949
Page 8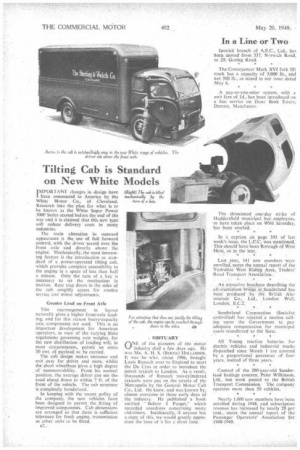 Page 8, 20th May 1949 —
Tilting Cab is Standard on New White Models
Close
IMPORTANT ,:hanges in design have I been announced in America by the White Motor Co., of Cleveland. Research into the plan for what is to be known as the White Super Power 3000 Series started before the end of the war and it is claimed that this new type will reduce delivery costs in many industries
The main alteration in outward appearance is the use of full forward control, with the driver seated over the front axle and directly above the engine. Mechanically, the most interesting feature is the introduction as standard of a power-operated titling cab, which provides complete accessibility to the engine in a space of less than half a minute. Only the turn of a key is necessary to set the mechanism in motion. Rear trap doors in the sides of the cab simplify access for routine service and minor adjustments.
Greater Load on Front Axle This rearrangement in layout naturally gives a higher front-axle loading, and for this reason heavy-capacity axle components are used. This is an important development for American operators, in view of the varying State regulations governing axle weights, for the new distribution qf loading will, in most circumstances, permit an •extra 30 cwt. of payload to be carried.
The cab design makes entrance and exit easy for driver and mate, whilst the short wheelbase gives a bigh degree _of rnancetivrability. From his normal position, the average driver can see the road ahead down to within 7 ft. of the front of the vehicle. The cab structure is completely bonderized.
In keeping with the recent policy of the company, the new vehicles have been designed to permit the. fitting of improved components. Cab dimensions are arranged so that there is sufficient tolerance for fresh engine, transmission or other units to be fitted.
n2_
nNE of the pioneers of the motor industry died a few days ago. He was MR. A. 1-1. S. (13ERT1E) HOLLANDER. It was• he who, about 1906, brought Louis Renault over to England to meet the Du Cros in order to introduce the petrol taxicab to London. As a result, thousands of Renault two-cylindered taxicabs were put on the streets of the Metropolis by the General Motor Cab Co., Ltd. He knew, and was known by, almost everyone in those 'early days of the industry. He published a book entitled Before I Forget," which recorded anecdotes concerning many old-timers. Incidentally.. if anyone has a copy of this, we would greatly appreciate the loan of it for a short time.