In a Line or Two
20th May 1949
Page 8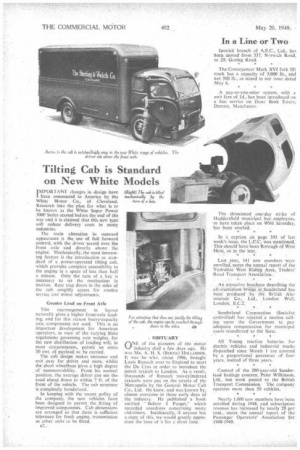 Page 8, 20th May 1949 —
In a Line or Two
Close
Ipswich branch of A.E.C., Ltd., has been moved from 337, Norwich Road, to 29, Goring Road, The Conveyancer Mark XVI fork lift truck has a capacity of 5,000 lb., and not 500 lb., as stated in our issue dated May 6.
A pay-as-you-enter system, with a unit fare of Id., has been introduced on a bus service on Dane Bank Estate, Denton, Manchester.
The threatened one-day strike of Huddersfield municipal bus employees, to have taken place on Whit Saturday, has been averted.
In it caption on page 393 of last week's issue, the L.C.C. was mentioned. This should have been Borough of West Ham, as in the text.
Last year, 141 new members were enrolled, states the annual report of the Yorkshire West Riding Area, Traders' Road Transport Association.
-An attractive brochure describing the
• alt-aluthinium bridge at Sunderland has been produced by the British Aluminium Go., Ltd., London Wall, London, E.C.2. • Sunderland Corporation (Socialist controlled) has rejected_ a motion calling upon the Government to pay adequate compensation for municipal assets transferred to the State, All Young traction batteries for electric vehicles and industrial trucks dispatched since March I are covered by a proportional guarantee of four years, instead of three years.
Control of the 200-year-old Sunderland haulage concern, Peter Wilkinson, Ltd., last week passed to the British Transport Commission. The company operates more than 50 vehicles.
Nearly 1,000 new members have been enrolled during 1948, and subscription ,revenue has increased by nearly 20 per cent., states the annual report of the Passenger Operators' Association for 1948-1949.