Ribble Tries a . Chassisless Bus
20th May 1949
Page 7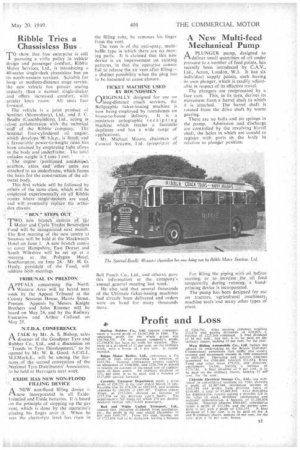 Page 7, 20th May 1949 —
Ribble Tries a . Chassisless Bus
Close
TO show that. free enterprise is still pursuing a virile policy, in vehicle design and passenger comfort, Ribble Motor Services, Ltd., is intrnducing 40-sehter single-deck chassisless bus on :its north-western services. Suitable for longor medium-distance stage service, the new Vehicle has greater seating 'Cariacity ..than, anormal single-decker and offers increased comfort, with . greater knee room: All seats face forWard, The vehicle is a joint product of Sentinel (Shrewsbury), Ltd., and J. C. ;11eadle (Coachbnilders), Ltd.. acting in Uose collaboration with the teelmiCal staff of the Ribble company. The Sentinel four-cylindered oil 'engine. which develops 90 b.h.p., is' hued, and favour ible power-O-Weight ratio has been attained by employing light alloys 'in the body and underfraine. . The total . .unladen weight is 5 tons 1 cwt.
; The engine (positioned amidships), gcarbbx, axles, and • other units are attached to an underframe, which forms the basis for the construction 6f the all metal body. '
This first vehicle will be followed by others of the same class, which will be in:inlayed experimentally. on all Ribble routes Where. single deckersare used and will.eventuallY replace the orth6:' dox chassis.
" rrAk) new branch Centres Of the Moiai and Cycle Trades' Benevolent . Fund Will 'be inaugurated. next
• :The -first meeting of the new. centre at 'Swansea will be held at the MickwOrth "Hotel on June 1. A new branch centre Co cover Hampshire, East Dorset, and South Wikshire will be sit tip at a .
. meeting at.: the Polygon . Hotel, -Southampton, on* June 24. :Mr. H. G. Henly, president . of the Fund, will ifdress both Meetings... . , TRIBUNAL—IN:PRESTON . A PPEAL.S concerning the North Western Area will be heard next week by the Appeal Tribunal at the County Sessions House, Harris Street, Preston, Appeals by MeSsrs: Knight Brothers and John Rimmer will be heard on May 24, and by the Railway Executive and Arthur Calland on May 25.
N.T.D.A. CONFERENCE
A TALK, by Mr. A. S. Bishop, sales r"t director of the Goodyear Tyre and Rubber Co., Ltd., and a discussion on Trends in Tyre Development," to be opened by Mr. W. R. Good, A,C.G.I., M.I.Mech.E., will be among the feature.s of the second convention of the .National Tyre Distributors' Association, to be held at Harrogate next week.
EXIDE HAS NEW NON-FLOOD
FILLING DEVICE rI ANEW, non-flood filling device is
now incorporated in all ExideIronelad and Exide batteries. It is based on the Principle of stopping up the gas vent, which is done by the operative's placing his linger over it. When he sees the electrolyte level has risen in the filling tube, he removes his finger from the vent.
The vent is of the anti-spray, multibaffle type in which there are no moving parts. it is claimed that this new device is an improvement on existing patterns, in that the operative cannot fail to release the air vent after filling:— a distinct poSsibility when the plug has to be loosened to cause closure.
TICKET MACHINE USED BY ROUNDSMEN
ORIGINALLY designed for use on long-distance coaCh services, the Bellgraphic ticket-issuing machine is now .being employed by roundsmen on house-to-house delivery. It is a miniature autographic r eee p t in g 'machine which retains a facsimile duPlicate and has a wide range of applications. ; •
• Mr, Michael Moore, chairman of Control Systems,' Ltd. (proprietor of Bell Punch Co., Ltd., and others), gave this information ' at the . company's, 'annual :general meeting last week. He also said that several thousands of the Ultimate ticket-issuing machines had already been delivered and orders were on hand for many thousands
more.