A New Multi-feed Mechanical Pump
20th May 1949
Page 7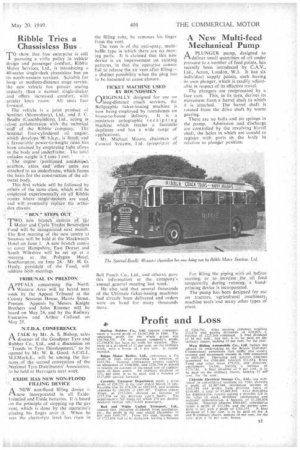 Page 7, 20th May 1949 —
A New Multi-feed Mechanical Pump
Close
PAA PLUNGER pump, designed to deliver small quantities of oil under pressure to a number cf feed points, has recently been introduced by C.A.V., Ltd., Acton, London, W.3. It ha i six individual supply Points, each having its own plunger, which is readily adjustable in 'respect of its effective travel.
The plungers, are reciprocated by a face Cam. This, in its turn, derives its movement from a barrel shaft to which it is attached. The barrel shaft is rotated from the drive shaft by worm gearing.
There are no balls and no springs in the pomp. Admission and discharge are controlkd by the revolving' tiarrel shaft, the holes in, whieh arc caused to register with , ports .,tin the body in relation to plunger pcsition.
For filling the piping w.ith. oil before starting; or to increlse "the, oil' feed temporarily 'during -running; 7 a handpriming device is incorporated.
The pump has been designed for use on tractors, agricultural machinery, machine tools and many other types of plant.