Co-ordination- , -The Voluntary Way ( -1 0-ORDINATION ag ree ments '.... , between the Birmingham and Midland
20th May 1949
Page 5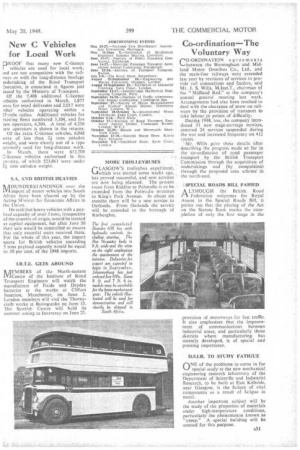 Page 5, 20th May 1949 —
Co-ordination- , -The Voluntary Way ( -1 0-ORDINATION ag ree ments '.... , between the Birmingham and Midland
Close
Motor Omnibus Co., Ltd., and the main-line railways were extended last year by revisions of services to provide rail connections and feeders, said Mr. J. S. Wills, M.Inst.T., chairman of the "Midland Red," at the company's annual general meeting last week. Arrangements had also been reached to deal with the clearance of snow on railways by 'the provision of transport to • take' labour to points of difficulty. During 1948, too, the company introduced 31 new stage-carriage services, restored 24 services suspended during the war and increased frequency on 412 routes.'' Mr. .Wills gave these details after describing the progreSs made so far in the -co-ordination of _road passenger .trapsport , by the British Transport Commission through the acquisition of undertakings and (by compulsion) through the proposed area scheme in the 'north-east.
SPECIAL ROADS BILL PASSED
A LTHOUGH the British_ Road 1'A federation welcomes the Royal Assent to the Special Roads Bill, it points out that the placing of the Act on the Statute Book marks the completion of only the first stage in the
provision of motorways for fast traffic. It also emphasizes that the improvement of communications between industrial areas, and particularly those districts where manufacturing has recently developed, is of special and pressing importance.
D.S.I.R. TO STUDY FATIGUE
ONE of the problems to come in for special study at the new mechanical engineering research laboratory of the Department of Scientific and Industrial Research, to be built at East Kilbride, near Glasgow, is the failure of vital components as a result of fatigue in metal.
Another important subject will be the study of the pfoperties of materials under high-temperature conditions, particularly the phenomenon known as "creep." A special building will be erected for this purpose.