One Hears
20th May 1949
Page 3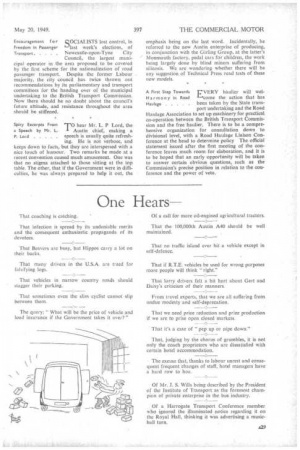 Page 3, 20th May 1949 —
One Hears
Close
That coaching is catching.
That infection is spread by its undeniable merits and the consequent enthusiastic propaganda of its devotees.
That Beavers are busy, but Hippos carry a lot on their backs.
That many drivers in the U.S.A. are treed for falsifying logs.
That vehicles in narrow country roads should stagger their parking.
That sometimes even the slim cyclist cannot slip between them.
The query: "What will be the price of vehicle and load insurance if the Government takes it over?" Of a call for more oil-engined agricultural tractors.
That the 100,000th Austin A40 should be well maintained.
That no traffic island ever hit a vehicle except in self-defence.
That if R.T.E. vehicles be used for wrong purposes more people will think right."
That lorry drivers felt a bit hurt about Gert and Daisy's criticism of their Manners.
From travel experts, that we are all suffering from undue modesty and self-deprecation.
That we need price reduction and prize production if we are to prise open closed markets.
That it's a case of "pep up or pipe down."
That, judging by the chorus of grumbles, it is not only the coach proprietors who are dissatisfied with certain hotel accommodation.
The excuse that, thanks to labour unrest and consequent frequent changes of staff, hotel managers have a hard row to hoc.
Of Mr. J. S. Wills being described by the President of the Institute of Transport as the foremost champion of private enterprise in the bus industry.
Of a Harrogate Transport Conference member who ignored the illuminated notice regarding it on the Royal Hall, thinking it was advertising a musichall turn.