What is the Future of Haulage : ?
20th May 1949
Page 21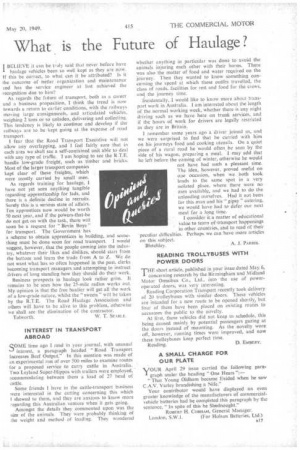 Page 21, 20th May 1949 —
What is the Future of Haulage : ?
Close
BELIEVE it can be truly said that never before have I haulage vehicles been so well kept as they are now. If this be correct, to what can it be attributed? Is it the outcome of better organization and maintenance and has the service engineer at last achieved the recognition due to him?
As regards the future of transport, both as a career and a business proposition. I think the trend is now towards a return to earlier conditions, with the railways moving large consignments, and articulated vehicles, weighing 2 tons or so unladen, delivering and collecting. This tendency is likely to continue and develop if the railways are to be 'kept going at the expense of road transport.
I fear that the Road Transport Executive will not allow any overlapping, and I feel fairly sure that in each area we shalt see a self-contained unit able to deal with any type of traffic. I am hoping to see the R.T.E. handle low-grade freight, such as timber and bricks.
Most of the larger transport companies
kept clear of these freights, which were mostly carried by small men. As regards training for haulage, I have not yet seen anythingtangible regarding apprenticeship for lads, and there is a definite decline in recruits. Surety this is a serious state of affairs.
Ten apprentices now mould be worth 50 next year, and if the poWers-that-be do not get on with the task, there will soon be a request for " Bevin Boys" for transport. The Government has a scheme to obtain apprentices in building, and some thing must be done soon for road transport. I would suggest, however, that the people coming into the industry, whatever their likes and dislikes, should start from the bottom and learn the trade from A to Z. We do not want what has so often happened in the past, clerks becoming transport managers and attempting to instruct drivers of long standing how they should do their work.
Business prospects in haulage look rather grim. It remains to be seen how the 25-mile radius works out.
My opinion is that the free haulier will get all the work of a low-grade nature, whilst the " sweets " will be taken by the R.T.E. The Road Haulage Association and others will have to be alive to this problem,.otherwise we shall see the elimination of the contractor.
Tolworth. W. T. SEARLE.
INTEREST IN TRANSPORT ABROAD
SOME time ago I read in your journal, with unusual
interest, a 'paragraph headed "Road Transport Increases Beef Output." In this mention was made of an experimental run of over 500 miles to examine routes for a proposed service to carry cattle in Australia. Two Leyland Super-Hippos with trailers were employed, accommodating between them a load of 27 head of cattle.
Some friends I have in the cattle-transport business were interested in the cutting concerning this which I showed to them, and they are anxious to know more regarding this Australian venture when it gets going.
.Amongst the details they commented upon was the size of the animals. They were probably thinking of the weight and method of loading. They wondered whether anything in particular was done to avoid the animals injuring each other with their horns. There was also the matter of food and water required on the journey. Then they wanted to know something concerning the speed at which these outfits travelled, the class of roads, facilities for rest and food for the crews, anil the journey time.
incidentally, I would like to know more about transport work in Australia. I am interested about the length of the normal working week, whether there is any night driving such as we have here on trunk services, and if the hours of work for drivers are legally restricted as they are in Britain.
I remember some years ago a driver joined us, and we were surprised to find that he carried with him on his journeys food and cooking utensils. On a quiet piece of a rural road he would often. be seen by the side of his wagon, preparing a meal. I may add that he left before the coming of winter, otherwise he would not have had such a pleasant time. The idea, however, proved useful on one occasion, when we both took loads to the same spot in a very isolated place, where there were no men available, and we had to do the unloading ourselves. Had it not been for this man and his-. gipsy " catering, we would have had to defer our next meal for a long time.
I consider it a matter of educational value to team n of-transport happenings in other countries, and to read of their -peculiar difficulties. Perhaps we can-have more articles on -this subject.
Bletchley. A. J. PARRIS, READING TROLLYBUSES WITH POWER DOORS 'J THE short article, published in your issue dated May 6, HE research by the Birmingham and Midland Motor Omnibus Co., Ltd., into the use of poweroperated doors, was very interesting.
Reading Corporation Transport recently took delivery of 20 trolleybuses with similar doors'. These vehicles are intended for a new route to be opened shortly, but four of them have been placed on existing routes to accustom the public to the novelty. At first, these vehicles did not keep to schedule, this being caused mainly by potential passengers gazing at the doors instead of mounting. As the novelty wore off, however, running times were improved, and now these trolleybuses keep perfect time.
Reading. D. EMBERY.
A SMALL CHARGE FOR OUR PLATE YOUR April 29 issue carried the following paragraph under the heading " One Hears "That Young Oldham became TExided when he saw C.A.V. Varley brandishing a Nife."
Your contributor would have displayed an even greater knowledge of the manufacturers of commercialvehicle batteries had he completed this paragraph by the sentence, "In spite of this he Shednought."
ROBERT H. COBHAM. General Manager.
London, S.W.1. (For Holsun Batteries, Ltd.)