GARAGES Without Permits
20th May 1949
Page 17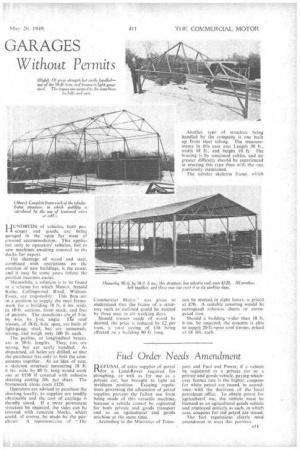 Page 17, 20th May 1949 —
GARAGES Without Permits
Close
HUNDREDS of vehicles, both . passenger • and goods, .are Wog garaged in the open for want of covered accommodation. This applie.s not only to operators' ValC1CS, but to new machines awaiting removal to the docks for eXport..
The shortage of wood and steel,. combined with restrictions on • the erection of new buildings, is the cause. and it may be some years before the position becomes easier. .
Meanwhile,' a solution is to be found ia a scheme for which Messrs. Arnold Kahn, Collingwood Road, Witham. Essex, are responsible. This firm are in a position to supply the steel framework for a building 18 ft. 6 ins, wide, in 10-ft sections, from stock, and free of permits. The stanchions are of 5-in. by 4-in, by On. angle. T.& roof trusses, of 18-ft. 6-in. span, are built of light-gauge steel, but arc immensely -strong, and weigh only, 100 lb. each.
The purlins, or Llongitudinal braces. are in 20-ft. lengths. They, too, are strong; but are easily handled. As dispatched, all holes arc' drilled, so that the purchaser has. only to bolt the cowlponents together. As an idea of cost, a skeleton structure measuring 18 ft. 6 ins, wide by 80 ft. long would work out at £150 if cOvered with asbestos sheeting costing -IOs. Per sheet. The framework alone costs £120.
Operators are advised to purchase the sheeting locally, as supplies are readily Obtainable and the cost of carriage is therelly saved. If a more permanent structure be required, the 'sides can be covered with concrete blocks, which could, of course, be made by the purchaser A representative of "The Commercial Motor was given to understand that the frame of a structure such as. Outlined could be erected by 'three men in six working days.
Should trusses made of wood be desired, the price is redoccd by £2 per truss, a total saving of €18 being effected on a building 80 ft. long. can be erected in eight hours, is priced at £70. A suitable covering would be corrugated asbestos sheets or corrugated iron.
Should a building wider—than 18 ft. 6 ins, be required, the concern i3 able to supply 20-ft.-span roof trusses, priced at a lOs. each.