OPINIONS and
20th March 1942
Page 32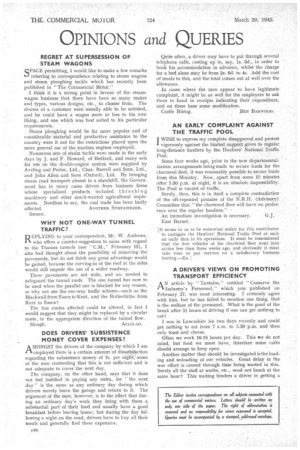 Page 35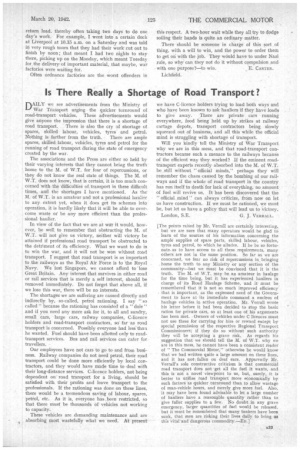 Page 32, 20th March 1942 —
OPINIONS and
Close
UERIES
REGRET AT SUPERSESSION OF STEAM WAGONS SPACE permitting, I would like to make a few remarks referring to correspondence relating to steam wagons and steam ploughing tackle which has recently been published in "The Commercial Motor."
I think it is a strong point in favour of the steamwagon business that there have been so many makes and types, various designs, etc., to choose from. The desires of a customer were usually able to be satisfied, and he could have a wagon more or less to his own liking, and one which was best suited to his particular requirements.
Steam ploughing would be far more popular and of considerable material and productive assistance to the country were it not for the restrictions placed upon the more general use of the traction engines employed.
Numerous sets of stedm tackle were made in the early days by J. and F. Howard, of Bedford, and many sets for use on the double-engine system were supplied by Aveling and Porter, Ltd., Chas. Burrell and Sons, Ltd., and John Allen and Sons (Oxford), Ltd. By bringing steam road transport almost to a standstill, the Government has in many cases driven from business firms whose specialized products included threshing machinery and other much-wanted agricultural implements. Needless to say, the coal trade has been badly
affected. ANOTHER SYMPATHIZER. Sussex.
WHY NOT ONE-WAY TUNNEL TRAFFIC?
REPLYING to your correspondent. Mr. W. Andrews, I N. who offers a counter-suggestion to mine with regard to the Thames tunnels (see "CM.," February 13), I also had thought about the possibility of removing the pavements, but do not think any great advantage would be gained, because the curving-in of the roof at the sides would still impede the use of a wider roadway.
These pavements are not wide, and are needed to safeguard the tunnel roofs. The one tunnel has now to be used when the parallel one is blocked for any reason, 30 why not use the one-way traffic scheme—such as the Blackwall from Essex to Kent, and the Rotherhithe from Kent to Essex?
The bus routes affected could be altered, in fact I would suggest that they might be replaced by a circular route, in the appropriate direction of the tunnel flow.
Slough. ACLOLAD .
DOES DRIVERS' SUBSISTENCE MONEY COVER EXPENSES?
AMONGST the drivers of the company by which I am employed there is a certain amount of dissatisfaction regarding the subsistence money of 7s. per night, some of the men contending that this is not sufficient and is not adequate to cover the next day.
The company, on the other hand, says that it does not feel justified in paying any extra, for " the next day" is the same as any ordinary day during which drivers merely leave the garage and return to it. The argument of the men, however, is to the effect that during an ordinary day's work they bring with them a substantial part of their food and usually have a good breakfast before leaving home; but during the day following a night on the road, drivers have to buy all their meals and generally find these expensive.
420. Quite often, a driver may have to put through several telephone calls, costing up to, say, is. 3d., in order to book his accommodation in advance, whilst the charge for a bed alone may be from 2s. 6d. to 4s. Add the cost of meals to this, and the total comes out at well over the allowance.
• In cases where the men appear to have legitimate complaint, it might be as well for the employers to ask them to hand in receipts indicating their expenditure, and on these base some modification.
Castle Rising. BEN BA RWOOD.
AN EARLY COMPLAINT AGAINST THE TRAFFIC POOL WISH to express my complete disapproval and protest vigorously against the limited support given to regular long-distance. hauliers by the Hauliers' National Traffic Pool.
Some four weeks ago, prior to the new departmentalization arrangements being made to secure loads for the chartered fleet, it was reasonably possible to secure loads from this Ministry. Now, apart from some 10 minutes after 5.30 p.m. al night, it is an absolute Impossibility. The Pool is vacant of traffic.
Surely, then, this is in itself a complete contradiction of the oft-repeated promise of the N.R.H. (Advisory) Committee that " the chartered fleet will have no preference over the regular hauliers."
An immediate investigation is necessary. G.J. East Barnet.
[It seems to us to be somewhat unfair for this contributor to castigate the Hauliers' National Traffic Pool at such an early date in its operations. It must be remembered that the first vehicles of the chartered fleet went into action less than three weeks ago, and obviously it must take time to put matters on a satisfactory business footing.—ED .
A DRIVER'S VIEWS ON PROMOTING TRANSPORT EFFICIENCY A N article by "Tantalus," entitled "Conserve the
Industry's Personnel," which you published on February 27, was most interesting. I certainly agree with him, but he has failed to mention one thing, that is the welfare of the personnel. What is the good of the break after 5i hours of driving if one can get nothing to eat?
I was in Lancashire for two days recently and could get nothing to eat from 7 a.m. to 5.30 p.m. and then only toast and cheese.
Often we work 16-18 hours per day. This we do not mind, but food we must have, therefore some cafés should arrange to keep open.
Another matter that should be investigated is the loading and unloading of our vehicles. Great delay in the war effort is caused through time being wasted in this. Surely all the staff at works, etc., need not lunch at the same hour? This waiting hinders a driver in getting a
return load, thereby often taking two days to do one day's work. For example, I went into a certain dock at Liverpool at 10.15 a.m. on a Saturday and was told in very rough tones that they had their work cut out to finish by noon; that meant I had two nights to stay there, picking up on the Monday, which meant Tuesday for the delivery. of important material, that maybe, war factories were waiting for.
Often ordnance facthries are the worst offenders in this respect. A two-hour wait while they all try to dodge soiling their hands is quite an ordinary matter.
There should be someone in charge of this sort of thing, with a will to win, and the power to order them to get ori with the job. They would have to under Nazi rule, so why can they not do it without compulsion and • with one purpose?—to win. E. CARTER.
Lichfield.