The Urgency of Adequate Insurance
20th March 1942
Page 22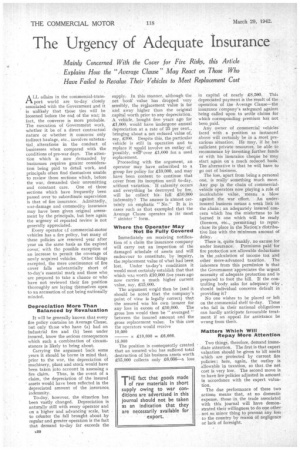 Page 22, 20th March 1942 —
The Urgency of Adequate Insurance
Close
CIA LL affairs in the commercial-transport world are to-day closely associated with the Government and it is unlikely that those ties will be loosened before the end of the war; in fact, the converse is more probable. The execution of Government work, whether it be of a direct contractual nature or whether it concerns only indirect haulage, etc., involves substantial , alterations in the conduct of businesses when compared with the conditions of pre-war days. The attention which is now demanded by businesses requires greater consideration being paid to detail work, and principals often find themselves unable to review those sections which, before the war, demanded their unremitting and constant care. One of those sections which have frequently been passed over to subordinate supervision is that of fire insurance. Admittedly, war-damage and commodity insurance may have been given original assessment by the principals, but here again the urgency of repeated review is not generally appreciated.
Every operator cf commercial-motor vehicles has a fire policy, but many of these policies are renewed year after year on the same basis as the expired cover, with the possible exception of an increase to permit the coverage of newly acqu:red vehicles. Other things excepted, the mere continuance of fire cover falls substantially short of to-day's essential mark and those who are prepared to take a chance or who have not reviewed their fire position thoroughly are laying themselves open to an accusation of not being nationally minded.
Depreciation More Than Balanced by Revaluation
It will be generally known that every fire policy contains an Average Clause, but only those who have (a) had an industrial fire and (b) been under insured, know the serious consequences which such a combination of circumstances is likely to bring about.
Carrying the argument back some years it should be borne in mind that, prior to the war, the depreciation of machinery, plant and stock would have been taken into account in assessing a fire claim. Thus, in the event of a claim, the depreciation of the insured assets would have been reflected in the depreciated amount of the insurance indemnity.
To-day, however, the situation has been vastly changed. Depreciation is naturally still with every operator and on a higher and advancing scale, but to cdunter the fall brought about by regular and greater operation is the fact that demand to-day fat exceeds the
supply. In this manner, although the net boole value has dropped very sensibly, the repjacement value is far and away higher than the original capital worth prior to any depreciation. A vehicle, bought five years ago for £1,000, would have Undergone annual depreciation at a rate of 25 per cent., bringing about a net reduced value of, say, £00. Despite this, the particular vehicle is still in operation and to replace it would involve an outlay of, possibly, w`ettover £1,000 for a used replacement.
Proceeding with the argument, an operator may have subscribed to a group fire policy for £10,000, and may have been content to continue that cover from its inception until to-day, without variation. If calamity occurs and everything be destroyed by fire, will he collect his full £10;000 indemnity? The answer is almost certainly an emphatic "No." It is in cases such as that exampled that the Average Clause operates in its most " sinister " form.
Where the Operator May Not Be Fully Covered Immediately on receiving notification of a claim the insurance company will carry out an inspection of the damaged schedule of assets and will endeavour to constitute, by inquiry, the replacement value of w'hat had been lost. Under to-day's conditions it would most certainly establish that that which was worth £10,000 five years ago now carries a much higher current value, say, £15,000.
The argument would then be (and it should be noted that the company's point of view is legally. correct) that the assured was his own insurer for any loss in excess of £10,000. The gross loss would then be " averaged" between the insured amount and the gross replacement value. In this case the operators would receive
10,0.00 x £10,000 = £6,666.
15,000 The position is consequently created that an assured who has suffered total destruction of his business assets worth £15,000 collects only 26,666—a loss
in capital of nearly £8,500. This depreciated payment is the result of the• operation of tile Average Clause—the insurance company's safeguard against being called upon to settle claims for • which corresponding premium has not been ,paid.
Any owner of commercial vehicles faced with a position as instanced above will certainly be in a most precarious situation. He may, if he has sufficient private resources, be able to recommence by investing further funds or with his insurance cheque he may start again on a much reduced basis. The alternative is that he will have to go out of business.
The loss, apart from being a personal one, is really something much more. Any gap in the chain of commercialvehicle operators now playing a role of incalculable value, means a blow against the war effort. An underinsured business means a weak link in the ,chain; an adequately insured concern which has the misfortune to be burned is one which will be ready (licences, etc" permitting) to repurchase its place in the Nation's distributive line with the minimum amount of delay. • There is, quite frankly, no excuse for under insurance. Premiums paid for fire protection are allowable deductions in• the ,calculation of income tax and other more-advanced taxation. The inference from this permission is that the Government "appreciates the urgent necessity of adequate protection and is prepared to foot the bill. If the controlling body. asks for adequacy why Should individual concerns default in providing it?
No one wishes to be placed or left on the commercial shelf to-day. Those who fail in their national obligations can hardly anticipate favourable treatment if an appeal for assistance be wrung from them.
Matters Which Will Repay More Attention
Two things, therefore, demand immediate attention. The first is that expert valuation should be given to all assets which are protected by current fire policies ; here, again, the outlay is allowable in taxation, so that .the net cost is very low. The second move is to have fire policies adjusted in amount in accordance with the expert valuation.
The due performance of these two actions means that, at no domestic expense, those in the trade associated with this journal will have demonstrated their willingness to do one other not so minor thing to prevent any loss to the country by reason of negligence or lack of foresight.