Personal Pars
20th March 1942
Page 16
Page 17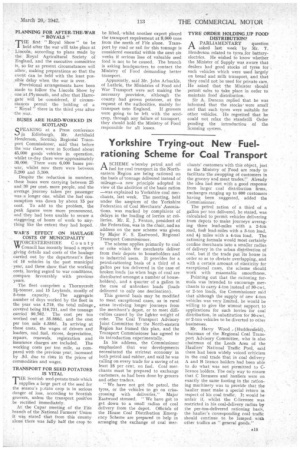 Page 16, 20th March 1942 —
Personal Pars
Close
MR. D. BULAY-WATSON has been appointed Regional Port Director 'for the Humber•area.
CAPT. J. G. APPLEYARD, a member of the firm tsf Messrs. Appleyards, motor engineers. Leeds, has been awarded the Military Cross.
MAJOR H. E. Hiexarorr, managing director of Ribble Motor Services, Ltd., has been re-elected to the Council of Preston Chamber of Commerce.
MR. A. HODGINS, president of Bolton Transport Workers' Union (commercial section) rim been appointed secretary of this body in succession to Mr.' F. Eastwood, • recently promoted assistant secretary of the North of England branch (commercial section) of the Union.
MR. C. W. LEWIS, A.I.T.A" has been appointed to the Hauliers' National Traffic Pool (Midland Division) as assistant manager. From 1938. he has been area organizer of A.R.O. (West Midland Area), and since the working of the Livestock Control has been assistant manager at the Wolverhampton office.
MR. J. E. ROGERS has been appointed secretary of the Yorkshire Area of A.R.O., in succession to Mr. W. J. Lowe. He joined the Area staff about five years ago, when the Yorkshire Stage Carriage Operators' Association became merged in A.R.O., and during the past three years has acted as organizer both on the goods and pas
senger sides. Mr. Rogers's association with road -transport began in passenger-vehicle operation 18 years ago in Nottinghamshire, when he joined Retford Motor Services. Afterwards he Was with Retford Coachways, and then moved to Yorkshire, to become manager for another passenger-carrying concern, Baddeley Brothers, Ltd., of Holmfirth. While there he helped to found the Yorkshire Stage Carriage Operators Association in 1931, and two years later he joined the Association's staff as assistant secretary, afterwards becoming organizer.
GROUPED AND EMERGENCYVEHICLE INSURANCE
LAST December insurers of goods vehicles agreed to continue and extend, without any general increase in rates, existing policies for motor goods vehicles while used within a grouped scheme, although certain restrictions had been removed.
The same concession was agreed to in respect of vehicles used for other purposes for emergency work, on a certificate issued on behalf of the Regional Transport Commissioner. Such certificates are issued by District Transport Officers, but not for: (1) normal work for the Road Haulage Branch of the Ministry, (2) civildefence work, (3) use which could be put on a non-emergency footing.
The insurers have now agreed to extend the arrangement until June 30.
SUGAR-BEET RATES FOR 18-12-42
A T'a recent meeting of Eastern Area,
A.R.O., under the chairmanship of Mr. Frank Bullen, consideration was given to the question of sugar-beet rates for the next campaign. Following recommendations from the majority of sub-areas, it was resolved that if there be no form of pool, and if the Government does not take over the transport of the beet crop, the rates for next season shorild be the same as those which applied to last year's campaign, subject to any increase in operating costs.
There was considerable evidence that rates for the transport of beet are now becoming stabilized.
ASSOCIATION APPOINTMENTS IN WEST MIDLANDS •
.THE new chairman of the A.R.O. 1 West Midland Area is Mr. H. B. Clarke, and the delegates to the National Sectional Board comprise Messrs. W. G. Cooper, H. B. Clarke, A. G. Dale, W. J. Lloyd, H. Davies, A. Hill and T. Watson,
The new chairman of the C.M.U.A. West Midland Division is Mr. C. E. Jordan. The delegates to the National Council are Messrs. P. C. Campbell, S. M. Macadam and H. W. Mousley. whilst the delegates to the National Sectional Boards are Messrs: Campbell. Mousley, Jordan, Macadam, Limm and Holland.
25 M.P.H. LIMIT PROPOSED FOR ALL COMMERCIAL MOTORS
T"proposed curtailment in the distribution of petrol " was used, by Mr. Purbrick in the House of Commons last•week as an argument for instituting a speed limit of 25 m.p.h. for all commercial vehicles and of 35 m.p.h. for all other vehicles.
Mr. Noel-Baker pointed out that the existing maximum for commercial motors was 30 m.p.h., or less according to their type, that other vehicles were limited to 30 m.p.h. in built-up areas and that all vehicles were restricted to 20 m.p.h. in such areas during blackout periods. He then argued that any fuel saving which might result from further speed-limit reductions would be offset by the slowing down of vital traffic concerned with the war effort.
It occurs to us that if Mr. Purbrick had given the matter a little more thought he ' woulPhave asked for 25 m.p.h. for all " heavy motor cars " and 35 m.p.h. for all " motor cars " (within the meaning of the Act), whilst. as the Parliamentary Secretaryto the M.o.W.T. rightly sets so much store on keeping up • the speed of "vital traffic," he might well have granted Mr. Purbrick's actual request for an increase in the speed limit for commercial vehicles weighing unladen over 3 tons.
TRAINING OF YOUNG ENGINEERS TO BE DISCUSSED
AT a meeting of the London branch of the Graduates Section of the Institution of Automobile Engineers to be held at 12, Hobart Place, London, S.W.1, on Sunday, April 12, at .3 p.m., a discussion will take place on " The Training of Young Engineers."
PLANNING FOR AFTER-THE-WAR " ROYALS "
THEfirst " Royal Show " to be held after the war will take place at Lincoln, according to plans made by the Royal Agricultural Society of England, and the executive committee is, so far as present circumstances will allow, making preparations so that the event can be held with the least possible delay when the war is over.
Provisional arrangements have been made to follow the Lincoln Show by one at Plymouth, and after that Harrogate will be considered, if circumstances permit the holding of a "
Royal " there in the third year after the war.
BUSES ARE HARD-WORKED IN SCOTLAND
SPEAKING at a Press conference in Edinburgh, Mr. Archibald Henderson, Scottish Regional Transport Commissioner, said •that before the war there were in Scotland about 45.000 goods vehicles in operation, whilst to;day there were approximately 36,000. There were 6,000 buses prewar, whilst now there were between 5,200 and 5,300.
Despite the reduction in numbers, these buses were carrying between 25 and 30 per cent, more people, and the average journey taken per passenger was a longer one, whilst the fuel consumption was down by about 15 per cent. To add to the problem, the peak figures were more pronounced, and they had been unable to secure a staggering of hours of work to anything like the extent they had hoped.
WAR'S EFFECT ON HAULAGE COSTS OF MUNICIPALITY WORCESTERSHIRE County W Council has recently issued a report giving details and costs of the haulage carried out by the department's fleet of 16 vehicles in the past municipal year, and these show that the working costs, having regard to war conditions, compare favourably with previous years.
The fleet comprises a Thornycroft 2i-tonner, and 15 Leylands, mostly of 5-tons capacity. The aggregate number of days worked by the fleet in the year was 4,719, the total mileage. covered being 316,731, and the tonnage carried 90,762: The cost per ton worked out at 35.866d. and the cost per ton mile 4.356d. In arriving at these costs, the wages of drivers and loaders, and fuel, stores, depreciation, repairs, renewals, registration and insurance charges are included. The working costs per ton mile, as compared with the previous year, increased by .5d. due to rists in the prices of commodities and wages.
TRANSPORT FOR SEED POTATOES IS VITAL
THE Scottish seed-potato trade which supplies a large part of the seed for the season's iertato crop is in serious danger of loss, according to Scottish growers, unless the transport posit4on be rectified immediately.
At the Cupar meeting of the Fife branch of the National Farmers' Union it was stated that from this county alone there was fully half the crop to be lifted, whilst another expert placed the transport requirement at 9,000 tons from the north of Fife alone. Transport by road or rail for this tonnage is considered essential within the next six weeks if serious loss of valuable seed food is not to be caused. The branch is asking headquarters, to contact the Ministry of Food demanding better transport.
Apparently, said Mr. John Arbuckle, of Luthrie, the Ministries of Food and War Transport were not making the necessary provision, although the county had grown potatoes, at the request of the authorities, mainly for transport into England. If growers were going to be left with the seedcrop, through any failure of transport, they should bold the Ministry of Food responsible for all losses. TYRE ORDER HOLDING..UP FOOD' DISTRIBUTION?
A PARLIAMENTARY question
asked last week by Mr. T. Henderson related to tyres for batteryelectrics. He wished to know whether the Minister of Supply was aware that dealers had good stocks of tyres for such vehicles which were used largely on bread and milk transport, and that they could not be used for private cars. He asked that the Minister should permit sales to take place in order to maintain food distribution.
Sir A. Duncan replied that he was informed that the stocks' were small and that such tyres were suitable for other vehicles. He regretted that he could not relax the standstill Order pending the introduction of the licensing system. ,
Tags
Organisations
:
Bolton Transport Workers' Union
,
Institution of Automobile Engineers
,
Yorkshire Stage Carriage Operators Association
,
Rogers's association
,
Ministry of Food
,
National Farmers' Union
,
National Sectional Board
,
Royal Agricultural Society of England
,
Council of Preston Chamber of Commerce
,
National Council
,
House of Commons
People
:
Archibald Henderson
,
A. HODGINS
,
W. J. Lowe
,
T. Henderson
,
J. G. APPLEYARD
,
A. Duncan
,
Purbrick
,
H. B. Clarke
,
Noel-Baker
,
T. Watson
,
John Arbuckle
,
J. E. ROGERS
,
Hiexarorr
,
Frank Bullen
,
C. W. LEWIS
,
C. E. Jordan