Passing Comments
20th March 1942
Page 14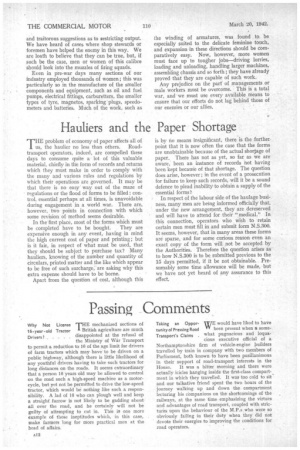 Page 15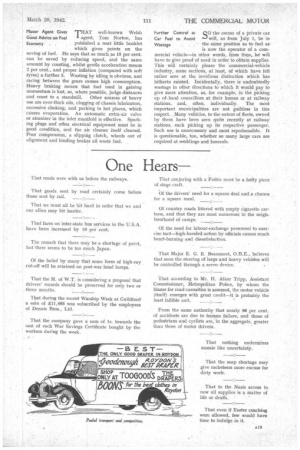 Page 14, 20th March 1942 —
Passing Comments
Close
iE mechanized sections of British agriculture are much disappointed at the refusal of the Ministry of War Transport to permit a reduction to 16 of the age limit for drivers of farm tractors which may have to be driven on a public highway, although there is little likelihood of any youthful drivers having to take such tractors for long distances on the roads. It seems extraordinary that a person 16 years old may be allowed to control on the road such a high-speed machine as a motorcycle, but yet not be permitted to drive the low-speed tractor, Which would be nothing like such a responsibility. A lad of 16 who can plough well and keep a straight' furrow is not likely to be gadding about all over the road, and he certainly will not be guilty of attempting to cut in. This i4 one more example of those ineptitudes which, in this case, make farmers long for more practical men at the head of affairs.
Why Not 16-year-old Drivers ? . License Tractor
Taking an OpporWE would have liked to have milky of Pressing Road VV been present when a someTransport's Claims . what pugnacious and loqua
cious executive official of a Northamptonshire firm of vehicle-engine builders travelled by train in company with two members of Parliament, both known to have been pusillanimous in their support of road-transport interests in the House. It was a bitter morning and there were actually icicles hanging inside the first-class compartment in which they travelled. It was too cold to sit and our talkatiVe friend spent the two hours of the journey walking up and down the compartment lecturing his Companions on the shortcomings of the railways, at the same time emphasizing the virtues and advantages of road transport, coupled with strictures upon the behaviour of the M.P.s who were so obviously failing in their duty when they did not devote their energies to improving the conditions for road operators.
Motor Agent Gives' THAT well-known Welsh Good Advice on Fuel failgent, Tom Norton, has
Economy . . published a neat little booklet which gives points on the saving of fuel, He says that as much as 15 per cent. can be saved by reducing speed, and the same amount by coasting, whilst gentle acceleration means 2 per cent., and proper inflation (compared with soft tyres) a further 3. Wasting by idling is obvious, and racing between the gears causes high consumption. Heavy braking means that fuel used in gaining momentura is lost, so, where possible, judge distances and coast to a standstill. Other sources of heavy use are over-thick oils, clogging of chassis lubricators, excessive choking, and parking in hot places, which causes evaporation. An automatic extra-air valve or atomizer in the inlet manifold is effective. Sparking plugs and other electrical equipment must be in good condition, and the air cleaner itself cleaned. Poor compression, a slipping clutch, wheels out of alignment and binding brakes all waste fuel.
Further Control or Car Fuel to Avoid Wastage
Q.0 the owner of a private car
as from July 1, be in the saine position as to fuel as is now the operator of a commercial vehicle—in other words, frpm then, he will have to give proof of need in order to obtain supplies. This will certainly please the commercial-vehicle industry, some sections, at least, of which have felt rather sore at the invidious distinction which has hitherto existed. Incidentally, there is undoubtedly wastage in other directions to which it would pay to give more attention, as, for example, in the picking up of local councillors at their homes or at railway stations, and, often, individually. The most important municipalities are not guiltless in this respect. Many vehicles, to the extent of fleets, owned by them have been seen quite recently at railway stations, each picking up its respective passenger. Such use is unnecessary and most reprehensible. It is questionable, too, whether so many large-cars are required at weddings and funerals. Further Control or Car Fuel to Avoid Wastage