One Hears
20th March 1942
Page 15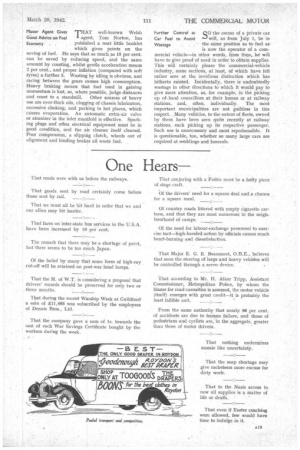 Page 15, 20th March 1942 —
One Hears
Close
• That roads were with us before the railways.
That goods sent by road certainly come before those sent by rail.
That we most all be hit hard in order that we and our allies may hit harder.
That fares on inter-state bus services in the U.S.A. have been increased by 10 per cent The remark that there may be a shortage of paint, but there seems to be too much Japan.
Of the belief by many that some form of high-ray cut-off will be retained on post-war head lamps.
That the M. of W.T. is considering a proposal that drivers' records should be preserved for only two or three months.
That during the recent Warship Week at Guildford a sum of £11,403 was subscribed by the employees of Dennis Bros., Ltd.
That the company gave a sum of Is, towards the cost of each War Savings Certificate bought by the workers during the week. That conjuring with a Foden must be a hefty piece of stage craft.
Of the drivers' need for a square deal and_a chance for a square meal.
Of country roads littered with empty cigarette cartons, and that they are most numerous in the neighbourhood of camps. ___<_ Of the need for labour-exchange personnel to exer-: cise tact—high-handed action by officials causes much heart-burning and dissatisfaction.
That Major E. G. E. Beaumont, 0.B.E., believes that soon the steering of large and heavy vehicles will be controlled through a servo device.
That according to Mr. H. Alker Tripp, Assistant Commissioner, Metropolitan Police, by whom the blame for road casualties is assessed, the motor vehicle (itself) emerges with great credit—it is probably the least fallible unit. , From the same authority that nearly 90 per cent. of accidents are due to human failure, and those of pedestrians and cyclists are, in the aggregate, greater than those of motor drivers.
That nothing undermines morale like uncertainty.
That the soap shortage may give racketeers more excuse for dirty work.
That to the Nazis access to new oil supplies is a matter of life or death.
That even if Easter coaching were allowed, few would have time to indulge in it.