Hauliers and the Paper Shortage T HE problem of economy of
20th March 1942
Page 14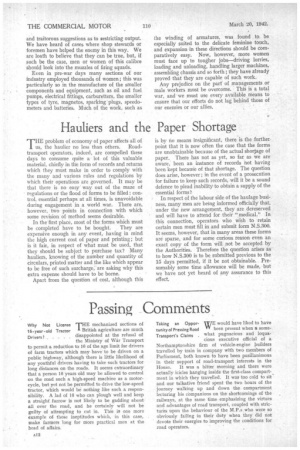 Page 14, 20th March 1942 —
Hauliers and the Paper Shortage T HE problem of economy of
Close
paper affects all of us, the haulier no less than others. Roadtransport operators, indeed, are compelled these days to consume quite a lot of this valuable material, chiefly in the form of records and returns which they must make in order to comply with the many and various rules and regulations by which their operations are governed. It may be that there is no easy ' way out of the maze of regulations or the flood of forms to be filled : control, essential perhaps at all times, is unavoidable during engagement in a world war. There are, however, two points in connection with which some revision of method seems desirable.
In the first place, most of the forms which must be completed have to be bought. They are expensive enough in any event, having in mind the high current cost of paper and printing ; but is it fair, in respect of what must be used, that they should be subject to purchase tax? Many hauliers, knowing of the number and quantity of circulars, printed matter and the like which appear to be free of such surcharge; are asking why this extra expense should have to be home.
Apart from the question of cost, although this is by no means insignificant, there is the further' point that it is now often the case that the forms are unobtainable because of the actual shorlage of paper. There has not as yet, so far as we are. aware, been an instance of records not having been kept becauge of that shortage. The question does arise, however ; in the event of a prosecution for failure to keep such records, will it be a sound defence to plead inability to obtain a supply of the essential forms?
In respect of the labour side of the haulage business, many men are being informed officially that, under the new arrangement, they are dereserved and will have to attend for their "medical." In this connection, operators who wish to retain certain men must fill in and submit form N.S.300. It seems, however, that in many areas these forms are sparse, and for some curious reason even an exact copy of the form will not be accepted by the Authorities. Therefore the question arises as to how N.S.300 is to be submitted previous to the 15 days permitted, if it be not obtainable. Presumably some time allowance will be made, but we have not yet heard of any assurance to this effect.