Women of Britain and Russia
20th March 1942
Page 13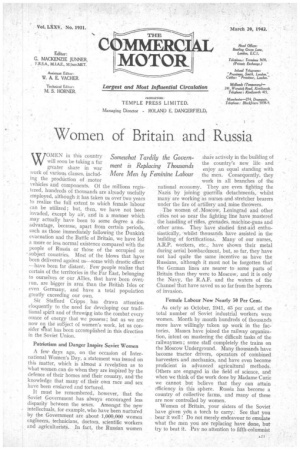 Page 14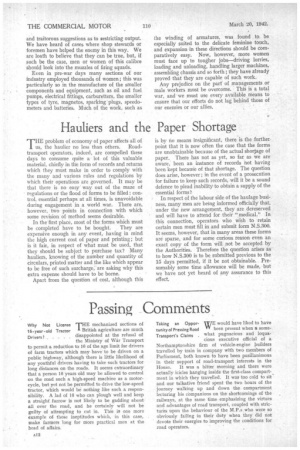 Page 13, 20th March 1942 —
Women of Britain and Russia
Close
WOMEN in this country will soon be taking a far greater share in war work of various classes, including the prod tiction of motor vehicles and components. Of the millions registered, hundreds of thousands are already usefully employed, although it has taken us over two years to realize the full extent to which female labour can be utilized ; but, then, we have not been invaded, except by air, and in a manner which may actually have been to some degree a disadvantage, because, apart from certain periods, such as those immediately following the Dunkirk evacuation and the Battle of Britain, we have led a more or less normal existence compared with the people of Russia or those of the occupied or subject countries. Most of the blows that have been delivered against us—some with drastic effect —have been far distant. Few people realize that certain of the territories in the Far East, belonging to ourselves or our Allies, that have been over.] un, are bigger in area than the British Isles or even Germany, and have a total population greatly exceeding our own.
Sir Stafford Cripps , has drawn attention eloquently to the need for developing our traditional spirit and of throw4ig into the combat every ounce of energy that we possess ; but as we are now on the subject of women's work, let us consider vihat has been accomplished in this direction in the Soviet Union.
Patriotism and Danger Inspire Soviet Women A few days ago, on the occasion of International Women's Day, a statement was issued on this matter, which is almost a revelation as to What women can do when they are inspired by the defence of their homes and their country, and -the knowledge that many of their own race and sex have been enslaved and tortured.
It must be remembered, however, that the Soviet Government has always encouraged less disparity between the sexes. Amongst the new intellectuals, for example, who have been nurtured by the Government are about 1,000,000 women engineers, technicians, doctors, scientific workers and agriculturists. In fact, the Russian women share actively in the building of the country's new life and enjoy an equal standing with the men, Consequently, they work in all branches of the national economy. They are even fighting the Nazis by joining guerrilla detachment's, whilst many are working as nurses and stretcher bearers under the fire of artillery and mine throwers.
The women of .Moscow, Leningrad and other cities not so near the fighting line have mastered the handling of rifles, grenades, machine-guns and other arms. They have studied first-aid enthusiastically, -whilst thousands have assisted in the building of fortifications. Many of our nurses, A.R.P. workers, etc., have shown their metal during aerial bombardment, but, so far, they have not had quite the same incentive as have the Russians, although it must not be forgotten that the German lines are nearer to some parts of Britain than they were to Moscow, and it is only the Navy, the R.A.F. and the waters of the Channel that have saved us so far from the horrors of invasion.
Female Labour Now Nearly 50 Per Cent., As early as October, 1941, 45 per cent. of the total number of Soviet industrial workers were women. Month by month hundreds of thousands more have willingly taken up work in the factories. Masses have joined the railway organization, intent on mastering the difficult tasks of the railwaymen ; some staff completely the trains on the Moscow Underground. Many thousands have become tractor drivers, operators of combined harvesters and mechanics, and have even become proficient in advanced agricultural methods. Others are engaged in the field of science, and when we think of the work done by Madame Curie we cannot but believe that they can attain . efficiency in this sphere. Russia has become a country of collective farms, and many of these are now controlled by women.
Women of Britain, your sisters of the Soviet have given you. a torch to carry. See that you bear it well ! Do not merely endeavour to emulate what the men you are replacing have done, buttry to beat it. Pay no attention to fifth-columnist and traitorous suggestions as to testricting output. We have heard of cases where shop stewards or foremen have helped the enemy in this way. We are loath to believe that they can be true, but, if such be the case, men or women of this calibre should look into the muzzles of firing squads. Even in pre-war days many sections of our industry employed thousands of women ; this was particularly so in the manufacture of the smaller components and equipment, such as oil and fuel pumps, electrical fittings, carburetters, the smaller types of tyre, magnetos, sparking plugs, speedometers and batteries. Much of the work, such as the winding of armatures, was found to be especially suited to the delicate feminine touch, and expansion in these directions should be comparatively easy. Now, however, more women must face up to tougher jobs—driving lorries, loading and unloading, handling larger machines, assembling chassis and so forth ; they have already proved that they are capable of such work.
Any prejudice on the part of managements or male workers must be overcome. This is a total war, and we must use every available means to ensure that our efforts do not lag behind those of our enemies or our allies.