Orwell lorry park may have to close ,,iris Tindall THE
20th June 2013
Page 8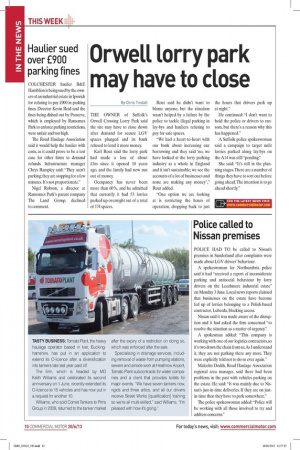 Page 8, 20th June 2013 —
Orwell lorry park may have to close ,,iris Tindall THE
Close
OWNER of Suffolk's Orwell Crossing Lorry Park said the site may have to close down after demand for secure LGV spaces plunged and its bank refused to lend it more money.
Karl Rout said the lorry park had made a loss of about ilm since it opened 10 years ago, and the family had now run out of money.
Occupancy has never been more than 60%, and he admitted that currently it had 53 lorries parked up overnight out of a total of 174 spaces. Rout said he didn't want to blame anyone, but the situation wasn't helped by a failure by the police to tackle illegal parking in lay-bys and hauliers refusing to pay for safe spaces.
"We had a heart-to-heart with our bank about increasing our borrowing and they said 'no, we have looked at the lorry parking industry as a whole in England and it isn't sustainable; we see the accounts of a lot of businesses and none are making any money'," Rout added.
"One option we are looking at is restricting the hours of operation, dropping back to just the hours that drivers park up at night."
He continued: "I don't want to hold the police or drivers to ransom, but there's a reason why this has happened."
A Suffolk police spokeswoman said a campaign to target unlit lorries parked along lay-bys on the A14 was still "pending': She said: "It's still in the planning stages. There are a number of things they have to sort out before going ahead. The intention is to go ahead shortly."