0-licence is revoked over drug conviction .—,-. drove..
20th June 2013
Page 6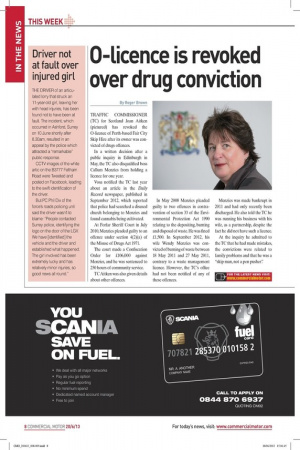 Page 6, 20th June 2013 —
0-licence is revoked over drug conviction .—,-. drove..
Close
TRAFFIC COMMISSIONER (TC) for Scotland Joan Aitken (pictured) has revoked the 0-licence of Perth-based Fair City Skip Hire after its owner was convicted of drugs offences.
In a written decision after a public inquiry in Edinburgh in May, the TC also disqualified boss Callum Menzies from holding a licence for one year.
Vosa notified the TC last year about an article in the Daily Record newspaper, published in September 2012, which reported that police had searched a disused church belonging to Menzies and found cannabis being cultivated.
At Forfar Sheriff Court in July 2010, Menzies pleaded guilty to an offence under section 4(2)(a) of the Misuse of Drugs Act 1971.
The court made a Confiscation Order for £106,000 against Menzies, and he was sentenced to 250 hours of community service.
TC Aitken was also given details about other offences. In May 2008 Menzies pleaded guilty to two offences in contravention of section 33 of the Environmental Protection Act 1990 relating to the depositing, burning and disposal of waste. He was fined £1,500. In September 2012, his wife Wendy Menzies was convicted of burning of waste between 18 May 2011 and 27 May 2011, contrary to a waste management licence. However, the TC's office had not been notified of any of these offences. Menzies was made bankrupt in 2011 and had only recently been discharged. He also told the TC he was running his business with his wife, as a partnership, despite the fact he did not have such a licence.
At the inquiry he admitted to the TC that he had made mistakes, the convictions were related to family problems and that he was a "skip man, not a pen pusher':