Building up value In this day and age, just hiring
20th June 2013
Page 39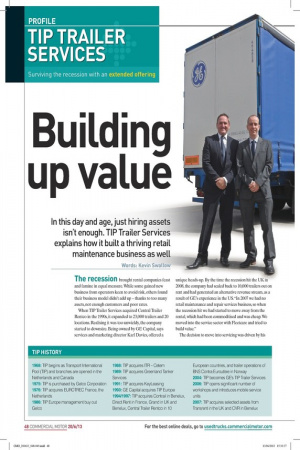 Page 40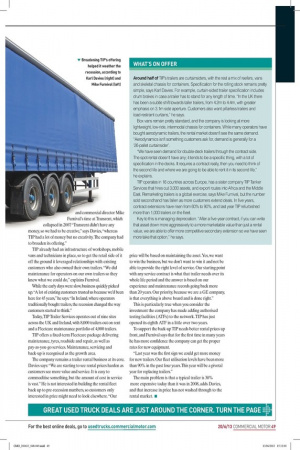 Page 39, 20th June 2013 —
Building up value In this day and age, just hiring
Close
assets isn't enough. TIP Trailer Services explains how it built a thriving retail maintenance business as well Nords: Kevin Swallow The recession brought rental companies feast and famine in equal measure. While some gained new business from operators keen to avoid risk, others found their business model didn't add up — thanks to too many assets, not enough customers and poor rates.
When TIP Trailer Services acquired Central Trailer Rentco in the 1990s, it expanded to 23,000 trailers and 20 locations. Realising it was too unwieldy, the company started to downsize. Being owned by GE Capital, says services and marketing director Karl Davies, offered a unique heads-up. By the time the recession hit the UK in 2008, the company had scaled back to 10,000 trailers out on rent and had generated an alternative revenue stream, as a result of GE's experience in the US. "In 2007 we had no retail maintenance and repair services business, so when the recession hit we had started to move away from the rental, which had been commoditised and was cheap. We moved into the service sector with Fleetcare and tried to build value."
The decision to move into servicing was driven by his and commercial director Mike Furnival's time at Transrent, which collapsed in 2007 "Transrent didn't have any money, so we had to be creative," says Davies, "whereas TIP had a lot of money but no creativity. The company had to broaden its offering."
TIP already had an infrastructure of workshops, mobile vans and technicians in place, so to get the retail side of it off the ground it leveraged relationships with existing customers who also owned their own trailers. "We did maintenance for operators on our own trailers so they knew what we could do," explains Furnival.
While the early days were slow, business quickly picked up. "A lot of existing customers trusted us because we'd been here for 45 years," he says. "In Ireland, where operators traditionally bought trailers, the recession changed the way customers started to think Today, TIP Trailer Services operates out of nine sites across the UK and Ireland, with 8,000 trailers out on rent and a Fleetcare maintenance portfolio of 4,000 trailers.
TIP offers a fixed-term Fleetcare package delivering maintenance, tyres, roadside and repair, as well as pay-as-you-go services. Maintenance, servicing and back-up is recognised as the growth area.
The company remains a trailer rental business at its core. Davies says: "We are starting to see rental prices harden as customers see more value and service. It is easy to commoditise something, but the amount of cost in service is vast." He is not interested in building the rental fleet back up to pre-recession numbers, so customers only interested in price might need to look elsewhere. "Our price will be based on maintaining the asset. Yes, we want to win the business, but we don't want to win it and not be able to provide the right level of service. Our starting point with any service contract is what that trailer needs over its whole life period and the answer is based on our experience and maintenance records going back more than 20 years. Our priority, because we are a GE company, is that everything is above board and is done right."
This is particularly true when you consider the investment the company has made adding authorised testing facilities (ATFs) to the network. TIP has just opened its eighth ATF in a little over two years.
To support the back-up TIP needs better rental prices up front, and Furnival says that for the first time in many years he has more confidence the company can get the proper rates for new equipment.
"Last year was the first sign we could get more money for new trailers. Our fleet utilisation levels have been more than 90% in the past four years. This year will be a pivotal year for replacing trailers."
The main problem is that a typical trailer is 30% more expensive today than it was in 2008, adds Davies, and that increase in price has not washed through to the rental market. • TIP HISTORY 1968: TIP begins as Transport International Pool (TIP) and branches are opened in the Netherlands and Canada 1975: TIP is purchased by Gelco Corporation 1976: TIP acquires EUROTREC France, the Netherlands 1986: TIP Europe management buy out Gelco 1988: TIP acquires ITR — Cetem 1989: TIP acquires Greenland Tanker Services 1991: TIP acquires KeyLeasing 1993: GE Capital acquires TIP Europe 1994/1997: TIP acquires Contrail in Benelux, Direct Rent in France, Grand in UK and Benelux, Central Trailer Rentco in 10 European countries, and trailer operations of BNS Contra Euroutleie in Norway 2004: TIP becomes GE's TIP Trailer Services 2006: TIP opens significant number of workshops and introduces mobile service units 2007: TIP acquires selected assets from Transrent in the UK and CVR in Benelux WHAT'S ON OFFER Around half of TIP's trailers are curtainsiders, with the rest a mix of reefers, vans and skeletal chassis for containers. Specification for the rolling stock remains pretty simple, says Karl Davies. For example, curtain-sided trailer specification includes drum brakes in case a trailer has to stand for any length of time. "In the UK there has been a subtle shift towards taller trailers, from 4.2m to 4.4m, with greater emphasis on 3.1m side aperture. Customers also want pillarless trailers and load-restraint curtains," he says.
Box vans remain pretty standard, and the company is looking at more lightweight, low-ride, intermodal chassis for containers. While many operators have bought aerodynamic trailers, the rental market doesn't see the same demand. "Aerodynamics isn't something customers ask for, demand is generally for a '26-pallet curtainsider'.
"We have seen demand for double-deck trailers through the contract side. The spot rental doesn't have any; it tends to be a specific thing, with a lot of specification in the decks. It requires a contract really, then you need to think of the second life and where we are going to be able to rent it in its second life," he explains.
TIP operates in 16 countries across Europe, has a sister company TIP Tanker Services that hires out 3,000 assets, and export routes into Africa and the Middle East. Remarketing trailers is a global exercise, says Mike Furnival, but the number sold secondhand has fallen as more customers extend deals. In five years, contract extensions have risen from 60% to 90%, and last year TIP refurbished more than 1,000 trailers on the fleet.
Key to this is managing depreciation. "After a five-year contract, if you can write that asset down more aggressively to a more marketable value than just a rental value, we are able to offer more competitive secondary extension so we have seen more take that option," he says.