Under the hammer Buyers dug deep at the Launch of
20th June 2013
Page 38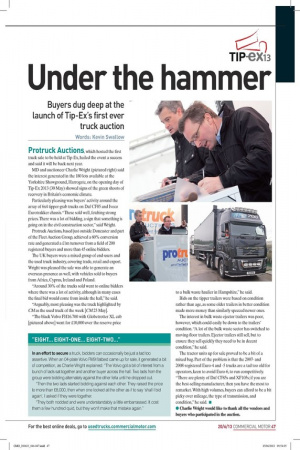 Page 38, 20th June 2013 —
Under the hammer Buyers dug deep at the Launch of
Close
Tip-Ex's first ever truck auction Words: Kevin Swallow Protruck Auctions, which hosted the first truck sale to be held at Tip-Ex, hailed the event a success and said it will be back next year.
MD and auctioneer Charlie Wright (pictured right) said the interest generated in the 180 lots available at the Yorkshire Showground, Harrogate, on the opening day of Tip-Ex 2013 (30 May) showed signs of the green shoots of recovery in Britain's economic climate.
Particularly pleasing was buyers' activity around the array of 6x4 tipper-grab trucks on Daf CF85 and Iveco Eurotrakker chassis. "These sold well, fetching strong prices. There was a lot of bidding, a sign that something is going on in the civil construction sector," said Wright.
Protruck Auctions, based just outside Doncaster and part of the Fleet Auction Group, achieved a 60% conversion rate and generated a ilm turnover from a field of 200 registered buyers and more than 45 online bidders.
The UK buyers were a mixed group of end-users and the used truck industry, covering trade, retail and export. Wright was pleased the sale was able to generate an overseas presence as well, with vehicles sold to buyers from Africa, Cyprus, Ireland and Poland.
"Around 30% of the trucks sold went to online bidders where there was a lot of activity, although in many cases the final bid would come from inside the hall," he said.
"Arguably, most pleasing was the truck highlighted by CM as the used truck of the week [CM23 May].
"The black Volvo FH16.700 with Globetrotter XL cab [pictured above] went for £10,000 over the reserve price to a bulk waste haulier in Hampshire," he said.
Bids on the tipper trailers were based on condition rather than age, as some older trailers in better condition made more money than similarly specced newer ones.
The interest in bulk waste ejector trailers was poor, however, which could easily be down to the trailers' condition. "A lot of the bulk waste sector has switched to moving-floor trailers. Ejector trailers still sell, but to ensure they sell quickly they need to be in decent condition," he said.
The tractor units up for sale proved to be a bit of a mixed bag. Part of the problem is that the 2007and 2008-registered Euro-4 and -5 trucks are a tad too old for operators, keen to avoid Euro-6, to run competitively. "There are plenty of Daf CF85s and XF105s; if you are the best-selling manufacturer, then you have the most to remarket. With high volumes, buyers can afford to be a bit picky over mileage, the type of transmission, and condition," he said. • • Charlie Wright would like to thank all the vendors and buyers who participated in the auction. "EIGHT... EIGHT-ONE... EIGHT-TWO..."
In an effort to secure a truck, bidders can occasionally be just a tad too assertive. When an 04-plate Volvo FM9 flatbed came up for sale, it generated a bit of competition, as Charlie Wright explained: "The Volvo got a bit of interest from a bunch of lads sat together and another buyer across the hall. Two lads from the group were bidding alternately against the other fella until he dropped out.
"Then the two lads started bidding against each other. They raised the price to more than £8,000, then when one looked at the other as if to say 'shall I bid again', I asked if they were together.
"They both nodded and were understandably a little embarrassed. It cost them a few hundred quid, but they won't make that mistake again."