Milestone training to come in July Driver agency and recruitment
20th June 2013
Page 35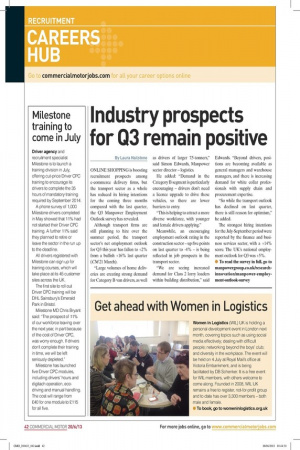 Page 35, 20th June 2013 —
Milestone training to come in July Driver agency and recruitment
Close
specialist Milestone is to launch a training division in July, offering cut-price Driver CPC training to encourage its drivers to complete the 35 hours of mandatory training required by September 2014.
A phone survey of 1,000 Milestone drivers completed in May showed that 11% had not started their Driver CPC training. A further 11% said they planned to retire or leave the sector in the run up to the deadline.
All drivers registered with Milestone can sign up for training courses, which will take place at its 45 customer sites across the UK.
The first site to roll out Driver CPC training will be DHL Sainsbury's Emerald Park in Bristol.
Milestone MD Chris Bryant said: "The prospect of 11% of our workforce leaving over the next year, in part because of the cost of Driver CPC, was worry enough. If drivers don't complete their training in time, we will be left seriously depleted."
Milestone has launched five Driver CPC modules, including drivers hours and digitach operation, ecodriving and manual handling. The cost will range from £40 for one module to £115 for all five.