Looking into the crystal bait Light urban delivery vehicles will
20th June 2013
Page 33
Page 34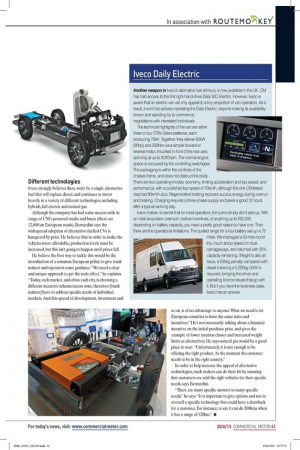 Page 33, 20th June 2013 —
Looking into the crystal bait Light urban delivery vehicles will
Close
use a combination of different driveline technologies in future, according to Iveco Words: Will Shiers Iveco has got out its crystal ball and is looking at the future of light urban delivery vehicles. It is demonstrating its vision with its Dual Energy concept. The prototype vehicle, the product of a collaboration between numerous component suppliers, uses two different types of traction: full electric and diesel hybrid.
Alessandro Bemardini, head of Iveco innovation truck and bus and alternative traction and electrification, explains that the driver is able to switch immediately to the most appropriate power source depending on a vehicle's specific mission and traffic conditions. "It's two energy solutions in one vehicle," he says. "On the one side there is diesel energy, and we strongly believe that for highway use it is the right answer. On the other we have an electric motor and a battery, which is the right answer for urban mobility."
When running around town, the van uses a full-electric motor, ensuring zero pollution and minimal noise levels. The E-Drive motor, which was developed in conjunction with Bosch, is powered by a Johnson Controls lithium-ion battery. It has a full plug-in facility, and the vehicle has a top speed of 50kph with a range of 40km when used in this mode.
For extra-urban conditions, the four-cylinder 2.3-litre diesel engine takes over.
This, and the transfer unit that governs the flow of mechanical and electric power, are both developed by Fiat Powertrain Technologies. Bemardini estimates that in most extra-urban operating conditions, this diesel parallel hybrid should consume 15% to 20% less fuel than a conventional diesel engine.
The vehicle has numerous other innovative features, including an ultra-lightweight full brake-by-wire electrohydraulic braking system. All wheels are equipped with Brembo-developed, lightweight, carbon-ceramic discs, which enable the adoption of full regenerative braking. Bernardini believes this is the first time carbon-ceramic discs have been used on a CV, and says they were chosen to minimise weight and increase longevity — but they won't be cheap!
Other weight-saving components, vital when combining two powertrain technologies, include a unique light chassis, suspension and propshaft.
Bemardini says although Dual Energy is still a concept, the manufacturer expects to put it into production. "It is in our pipeline of development," he says. "We are running a prototype, and we will decide when it will be completely ready for production." Different technologies Iveco strongly believes there won't be a single alternative fuel that will replace diesel, and continues to invest heavily in a variety of different technologies, including hybrids, full electric and natural gas.
Although the company has had some success with its range of CNG-powered trucks and buses (there are 12,000 on European roads), Bernardini says the widespread adoption of alternative-fuelled CVs is hampered by price. He believes that in order to make the vehicles more affordable, production levels must be increased, but this isn't going to happen until prices fall.
He believe the best way to tackle this would be the introduction of a common European policy to give truck makers and operators some guidance. "We need a clear and unique approach to get the scale affect," he explains. "Today, each market, and often each city, is choosing a different incentive scheme/access zone, therefore [truck makers] have to address specific needs of individual markets. And this spread of development, investment and so on, is of no advantage to anyone. What we need is for European countries to have the same rules and incentives." He's not necessarily talking about a financial incentive on the initial purchase price, and gives the example of lower taxation classes and increased weight limits as alternatives. He says natural gas would be a good place to start. "Unfortunately it is not enough to be offering the right product. At the moment the customer needs to be in the right country."
In order to help increase the appeal of alternative technologies, truck makers can do their bit by ensuring that customers are sold the right vehicles for their specific needs, says Bernardini.
"There are many specific answers to many specific needs," he says. "It is important to give options and not to oversell a specific technology that could have a drawback for a customer. For instance, to say it can do 200kms when it has a range of 120km." • Iveco Daily Electric Another weapon in lveco's alternative fuel armoury is now available in the UK. CM has had access to the first right-hand-drive Daily 500 Electric. However, Iveco is aware that an electric van will only appeal to a tiny proportion of van operators. As a result, it won't be actively marketing the Daily Electric, beyond making its availability known and standing by to commence negotiations with interested individuals.