RenapLt renaissance Last week's launch of Renault's Euro-6 line-up in
20th June 2013
Page 21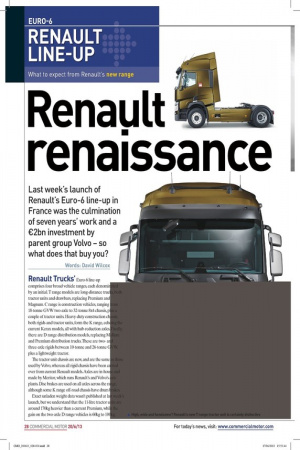 Page 22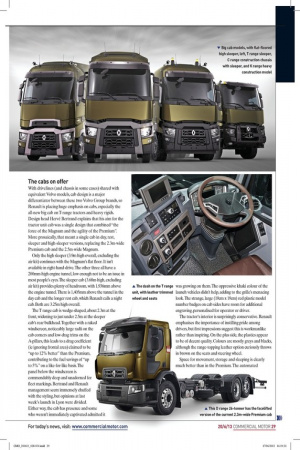 Page 23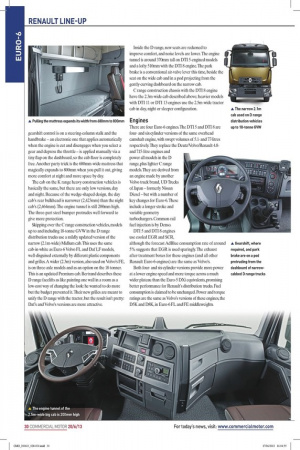 Page 24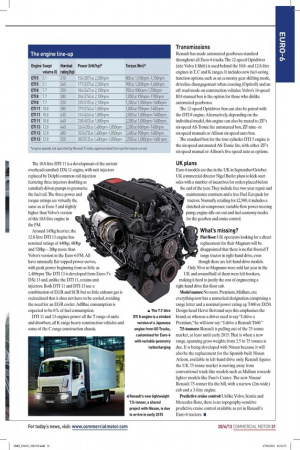 Page 21, 20th June 2013 —
RenapLt renaissance Last week's launch of Renault's Euro-6 line-up in
Close
France was the culmination of seven years work and a €2bn investment by parent group Volvo so what does that buy you?
Words: David Wilcox Renault Trucks' Euro-6 line-up comprises four broad vehicle ranges, each denomi by an initial. T range models are long-distance truc tractor units and drawbars, replacing Premium and Magnum. C range is construction vehicles, ranging 18-tonne GVVV two-axle to 32-tonne 8x4 chassis, p couple of tractor units. Heavy-duty construction ch both rigids and tractor units, form the K range, ech current Kerax models, all with hub-reduction axles there are D range distribution models, replacing and Premium distribution trucks. These are twoa three-axle rigids between 10-tonne and 26-tonne plus a lightweight tractor.
The tractor unit chassis are new, and are the same used by Volvo, whereas all rigid chassis have been c over from current Renault models. Axles are in-hou made by Mentor, which runs Renault's and Volvo's plants. Disc brakes are used on all axles across the r although some K range off-road chassis have drum Exact unladen weight data wasn't published at la launch, but we understand that the 11-litre tractor u around 170kg heavier than a current Premium, wh gain on the two-axle D range vehicles is 60kg to 10 The cabs on offer With drivelines (and chassis in some cases) shared with equivalent Volvo models, cab design is a major differentiator between these two Volvo Group brands, so Renault is placing huge emphasis on cabs, especially the all-new big cab on T-range tractors and heavy rigids. Design head Herve Bertrand explains that his aim for the tractor unit cab was a single design that combined "the force of the Magnum and the agility of the Premium': More prosaically, that meant a single cab in day, rest, sleeper and high-sleeper versions, replacing the 2.3m-wide Premium cab and the 2.5m-wide Magnum.
Only the high sleeper (3.9m high overall, excluding the air-kit) continues with the Magnum's flat floor. It isn't available in right-hand-drive. The other three all have a 200mm-high engine tunnel, low enough not to be an issue in most people's eyes. The sleeper cab (3.68m-high, excluding air kit) provides plenty of headroom, with 1,936mm above the engine tunnel. There is 1,405mm above the tunnel in the day cab and the longer rest cab, which Renault calls a night cab. Both are 3.25m high overall.
The T range cab is wedge-shaped, about 2.3m at the front, widening to just under 2.5m at the sleeper was growing on them. The oppressive khaki colour of the launch vehicles didn't help, adding to the grille's menacing look. The strange, large (19cm x 19cm) red plastic model number badges on cab sides have room for additional engraving, personalised for operator or driver.
The tractor's interior is surprisingly conservative. Renault emphasises the importance of instilling pride among drivers, but first impressions suggest this is workmanlike rather than inspiring. On the plus side, the plastics appear to be of decent quality. Colours are mostly greys and blacks, although the range-topping leather option curiously throws in brown on the seats and steering wheel.
Space for movement, storage and sleeping is clearly much better than in the Premium. The automated gearshift control is on a steering-column stalk and the handbrake — an electronic one that applies automatically when the engine is cut and disengages when you select a gear and depress the throttle — is applied manually via a tiny flap on the dashboard, so the cab floor is completely free. Another party trick is the 680mm-wide mattress that magically expands to 800mm when you pull it out, giving more comfort at night and more space by day.
The cab on the K range heavy construction vehicles is basically the same, but there are only low versions, day and night. Because of the wedge-shaped design, the day cab's rear bulkhead is narrower (2,423mm) than the night cab's (2,464mm). The engine tunnel is still 200mm high. The three-part steel bumper protrudes well forward to give more protection.
Skipping over the C range construction vehicles, models up to and including 18-tonne GVVV in the D range distribution trucks use a mildly updated version of the narrow (2.1m-wide) Midlum cab. This uses the same cab-in-white as Euro-6 Volvo FL and Daf LF models, well-disguised externally by different plastic components and grilles. A wider (2.3m) version, also used on Volvo's FE, is on three-axle models and as an option on the 18-tonner. This is an updated Premium cab. Bertrand describes these D range facelifts as like painting one wall in a room as a low-cost way of changing the look: he wanted to do more but the budget prevented it. Their new grilles are meant to unify the D range with the tractor, but the result isn't pretty: Daf's and Volvo's versions are more attractive. Inside the D range, new seats are reckoned to improve comfort, and noise levels are lower. The engine tunnel is around 370mm tall on DTI 5-engined models and a lofty 510mm with the DTI 8 engine. The park brake is a conventional air-valve lever this time, beside the seat on the wide cab and in a pod projecting from the gently-curving dashboard on the narrow cab.
C range construction chassis with the DTI 8 engine have the 2.3m-wide cab described above; heavier models with DTI 11 or DTI 13 engines use the 2.5m-wide tractor cab in day, night or sleeper configuration.
Engines DTI 5 and DTI 8 engines use cooled EGR and SCR, although the forecast AdBlue consumption rate of around 5% suggests that EGR is used sparingly. The exhaust after-treatment boxes for these engines (and all other Renault Euro-6 engines) are the same as Volvo's.
Both fourand six-cylinder versions provide more power at a lower engine-speed and more torque across a much wider plateau than the Euro-5 DXi equivalents, promising better performance for Renault's distribution trucks. Fuel consumption is claimed to be unchanged. Power and torque ratings are the same as Volvo's versions of these engines, the D5K and D8K, in Euro-6 FL and FE middleweights.
DTI 11 and 13 engines power all the T range of units and drawbars, all K range heavy construction vehicles and some of the C range construction chassis. Transmissions Renault has made automated gearboxes standard throughout all Euro-6 trucks. The 12-speed Optidriver (née Volvo I-Shift) is used behind the 10.8and 12.8-litre engines in T, C and K ranges. It includes new fuel-saving function options, such as an economy gear-shifting mode, driveline disengagement when coasting (Optiroll) and an off-road mode on construction vehicles. Volvo's 14-speed B14 manual box is the option for those who dislike automated gearboxes.
The 12-speed Optidriver box can also be paired with the DTI 8 engine. Alternatively, depending on the individual model, this engine can also be mated to ZF's six-speed AS-Tronic lite automated box, ZF nineor six-speed manuals or Allison six-speed auto box.
The standard box for the four-cylinder DTI 5 engine is the six-speed automated AS-Tronic lite, with either ZF's six-speed manual or Allison's five-speed auto as options.
UK plans What's missing?
Flat floor: UK operators looking for a direct replacement for their Magnum will be disappointed that there is no flat-floored T range tractor in right-hand drive, even though there are left-hand drive models.
Only 50 or so Magnums were sold last year in the UK and around half of them were left-hookers, making it hard to justify the cost of engineering a right-hand drive flat-floor cab.
Model names: No more Premium, Midlum, etc; everything now has a numerical designation comprising a range letter and a nominal power rating eg. T460 or D250. Design head Herve Bertrand says this emphasises the brand, so whereas a driver used to say "I drive a Premium," he will now say: "I drive a Renault T460."
7.5-tonners: Renault is pulling out of the 7.5-tonne market, at least until early 2015. That is when a new range, spanning gross weights from 3.5 to 7.5 tonnes is due. It is being developed with Nissan because it will also be the replacement for the Spanish-built Nissan Atleon, available in left-hand drive only. Renault figures the UK 7.5-tonne market is moving away from conventional truck-like models such as Midlum towards lighter models like Fuso's Canter. The new Nissan/ Renault 7.5-tonner fits the bill, with a narrow (2m-wide) cab and a 3-litre engine.
Predictive cruise control: Unlike Volvo, Scania and Mercedes-Benz, there is no topography-sensitive predictive cruise control available as yet in Renault's Euro-6 tractors. •