Just for the record...
20th June 2013
Page 2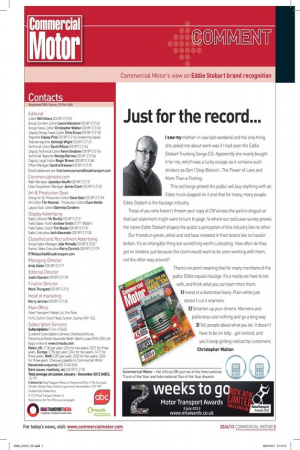 Page 2, 20th June 2013 —
Just for the record...
Close
I saw my mother-in-law last weekend and the only thing she asked me about work was if I had seen the Eddie Stobart Trucking Songs CD. Apparently she nearly bought it for me, which was a lucky escape as it contains such stinkers as Don't Stop Believin', The Power of Love and More Than a Feeling.
Those of you who haven't thrown your copy of CM across the yard in disgust at that last statement might want to turn to page 14 where our exclusive survey proves the name Eddie Stobart shapes the public's perception of this industry like no other.
Our friends in green, white and red have invested in their brand like no haulier before. It's an intangible thing but something worth cultivating. How often do they get on tenders just because the client would want to be seen working with them, not the other way around?
There's no point moaning that for many members of the public Eddie equals haulage. It's a reality we have to live with, and think what you can learn from them.
1) Invest in a distinctive livery. Plain white just doesn't cut it anymore.
2) Smarten up your drivers. Manners and politeness cost nothing and go a long way. 3) Tell people about what you do. It doesn't have to be on telly... get noticed, and you'll keep getting noticed by customers. Christopher Walton