Widening In July, it will be a year since own-account
20th June 2013
Page 17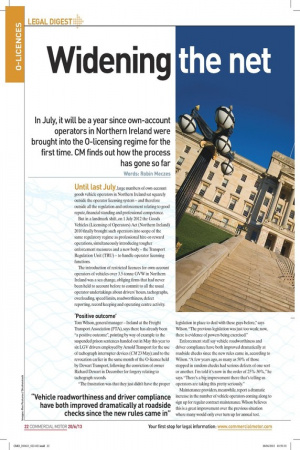 Page 18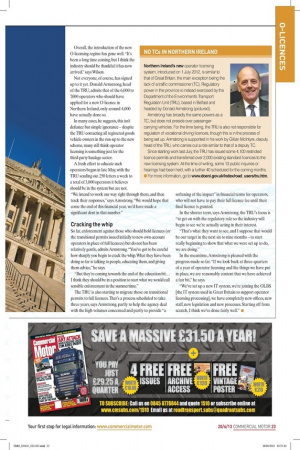 Page 17, 20th June 2013 —
Widening In July, it will be a year since own-account
Close
operators in Northern Ireland were brought into the 0-licensing regime for the first time. CM finds out how the process has gone so far Words: Robin Mecze_ Until last July, _,, large numbers of own-account goods vehicle operators in Northern Ireland sat squarely outside the operator licensing system — and therefore outside all the regulation and enforcement relating to good repute, financial standing and professional competence.
But in a landmark shift, on 1 July 2012 the Goods Vehicles (Licensing of Operators) Act (Northern Ireland) 2010 finally brought such operators into scope of the same regulatory regime as professional hire-or-reward operations, simultaneously introducing tougher enforcement measures and a new body — the Transport Regulation Unit (TRU) — to handle operator licensing functions.
The introduction of restricted licences for own-account operators of vehicles over 3.5-tonne GVVV in Northern Ireland was a sea change, obliging firms that had never been held to account before to commit to all the usual operator undertakings about drivers' hours, tachographs, overloading, speed limits, roadworthiness, defect reporting, record keeping and operating centre activity.
'Positive outcome' Tom Wilson, general manager — Ireland at the Freight Transport Association (ETA), says there has already been "a positive outcome", pointing by way of example to the suspended prison sentences handed out in May this year to six LGV drivers employed by Arnold Transport for the use of tachograph interrupter devices (CM 23 May); and to the revocation earlier in the same month of the 0-licence held by Dewart Transport, following the conviction of owner Richard Dewart in December for forgery relating to tachograph records.
"The frustration was that they just didn't have the proper legislation in place to deal with these guys before," says Wilson. "The previous legislation was just too weak; now, there is evidence of powers being exercised."
Enforcement staff say vehicle roadworthiness and driver compliance have both improved dramatically at roadside checks since the new rules came in, according to Wilson. "A few years ago, as many as 50% of those stopped in random checks had serious defects of one sort or another. I'm told it's now in the order of 25%-30%," he says. "There's a big improvement there that's telling us operators are taking this pretty seriously."
Maintenance providers, meanwhile, report a dramatic increase in the number of vehicle operators coming along to sign up for regular contract maintenance. Wilson believes this is a great improvement over the previous situation where many would only ever turn up for annual test. Overall, the introduction of the new 0-licensing regime has gone well. "It's been a long time coming, but I think the industry should be thankful it has now arrived," says Wilson.
Not everyone, of course, has signed up to it yet. Donald Armstrong, head of the TRU, admits that of the 6,000 to 7,000 operators who should have applied for a new 0-licence in Northern Ireland, only around 4,000 have actually done so.
In many cases, he suggests, this isn't defiance but simple ignorance — despite the TRU contacting all registered goods vehicle owners in the run-up to the new scheme, many still think operator licensing is something just for the third-party haulage sector.
A fresh effort to educate such operators began in late May, with the TRU sending out 250 letters a week to a total of 3,000 operators it believes should be in the system but are not. "We intend to work our way right through them, and then track their responses," says Armstrong. "We would hope that come the end of this financial year, we'd have made a significant dent in that number."
Cracking the whip So far, enforcement against those who should hold licences (or the transitional permits issued initially to new own-account operators in place of full licences) but do not has been relatively gentle, admits Armstrong. "You've got to be careful how sharply you begin to crack the whip. What they have been doing so far is talking to people, educating them, and giving them advice," he says.
"But they're coming towards the end of the education bit... I think they should be in a position to start what we would call sensible enforcement in the summertime."
The TRU is also starting to migrate those on transitional permits to full licences. That's a process scheduled to take three years, says Armstrong, partly to help the agency deal with the high volumes concerned and partly to provide "a softening of the impact" in financial terms for operators, who will not have to pay their full licence fee until their final licence is granted.
In the shorter term, says Armstrong, the TRU's focus is "to get on with the regulatory role so the industry will begin to see we're actually acting in their interest.
"That's what they want to see, and I suppose that would be our target in the next six to nine months — to start really beginning to show that what we were set up to do, we are doing."
In the meantime, Armstrong is pleased with the progress made so far. "If we look back at three-quarters of a year of operator licensing and the things we have put in place, we are reasonably content that we have achieved a fair bit," he says.
"We've set up a new IT system, we're joining the OLBS [the IT system used in Great Britain to support operator licensing processing], we have completely new offices, new staff new legislation and new processes. Starting off from scratch, I think we've done fairly well." • NO TCs IN NORTHERN IRELAND Northern Ireland's new operator licensing system, introduced on 1 July 2012, is similar to that of Great Britain, the main exception being the lack of a traffic commissioner (TO). Regulatory power in the province is instead exercised by the Department of the Environment's Transport Regulation Unit (TRU), based in Belfast and headed by Donald Armstrong (pictured).
Armstrong has broadly the same powers as a TO, but does not preside over passengercarrying vehicles. For the time being, the TRU is also not responsible for regulation of vocational driving licences, though this is in the process of being set up. Armstrong is supported in his work by Gillian McIntyre, deputy head of the TRU, who carries out a role similar to that of a deputy TO.
Since starting work last July, the TRU has issued some 4,100 restricted licence permits and transferred over 2,000 existing standard licences to the new licensing system. At the time of writing, some 13 public inquiries or hearings had been held, with a further 40 scheduled for the coming months.
• For more information, go to www.doeni.gov.uk/index/roadusersAru.htm.