Disqualification for director who misled TC Operator: Lee Burns Transport
20th June 2013
Page 15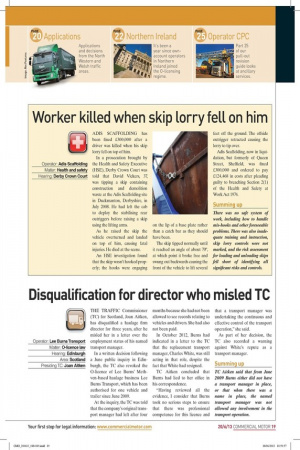 Page 15, 20th June 2013 —
Disqualification for director who misled TC Operator: Lee Burns Transport
Close
Matter: 0-licence law Hearing: Edinburgh Area: Scotland Presiding TC: Joan Aitken THE TRAFFIC Commissioner (TC) for Scotland, Joan Aitken, has disqualified a haulage firm director for three years, after he misled her in a letter over the employment status of his named transport manager.
In a written decision following a June public inquiry in Edinburgh, the TC also revoked the 0-licence of Lee Burns' Methyen-based haulage business Lee Burns Transport, which has been authorised for one vehicle and trailer since June 2009.
At the inquiry, the TC was told that the company's original transport manager had left after four months because she had not been allowed to see records relating to vehicles and drivers. She had also not been paid.
In October 2012, Burns had indicated in a letter to the TC that the replacement transport manager, Charles White, was still acting in that role, despite the fact that White had resigned.
TC Aitken concluded that Burns had lied to her office in his correspondence.
"Having reviewed all the evidence, I consider that Burns took no serious steps to ensure that there was professional competence for this licence and that a transport manager was undertaking the continuous and effective control of the transport operation," she said.
As part of her decision, the TC also recorded a warning against White's repute as a transport manager.
Summing up TC Aitken said that from June 2009 Burns either did not have a transport manager in place, or that when there was a name in place, the named transport manager was not allowed any involvement in the transport operation.