rand on the run How high a profile does Eddie
20th June 2013
Page 11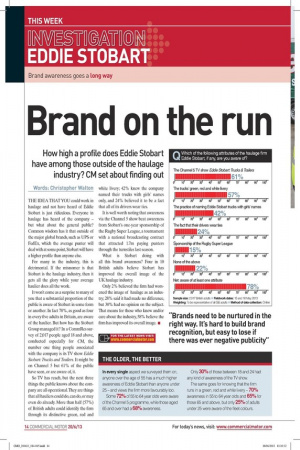 Page 12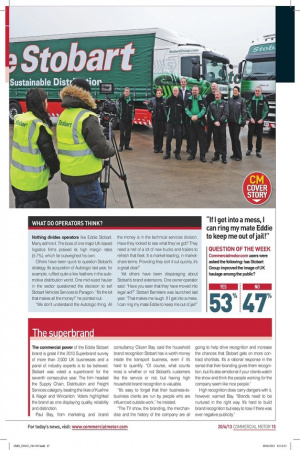 Page 11, 20th June 2013 —
rand on the run How high a profile does Eddie
Close
Stobart have among those outside of the haulage industry? CM set about finding out Words: Christopher Walton THE IDEA THAT YOU could work in haulage and not have heard of Eddie Stobart is just ridiculous. Everyone in haulage has heard of the company — but what about the general public? Common wisdom has it that outside of the major global brands, such as UPS or FedEx, which the average punter will deal with at some point, Stobart will have a higher profile than anyone else.
For many in the industry, this is detrimental. If the misnomer is that Stobart is the haulage industry, then it gets all the glory while your average haulier does all the work.
It won't come as a surprise to many of you that a substantial proportion of the public is aware of Stobart in some form or another. In fact 78%, as good as four in every five adults in Britain, are aware of the haulier. But how has the Stobart Group managed it? In a CommRes survey of 2,017 people aged 18 and above, conducted especially for CM, the number one thing people associated with the company is its TV show Eddie Stobart: Trucks and Trailers It might be on Channel 5 but 61% of the public have seen, or are aware of it.
So TV has reach, but the next three things the public knows about the company are all operational. They are things that all hauliers could do, can do, or may even do already. More than half (57%) of British adults could identify the firm through its distinctive green, red and white livery; 42% knew the company named their trucks with girls' names only, and 24% believed it to be a fact that all of its drivers wear ties.
It is well worth noting that awareness via the Channel 5 show beat awareness from Stobart's one-year sponsorship of the Rugby Super League, a tournament with a national broadcasting contract that attracted 1.7m paying punters through the turnstiles last season.
What is Stobart doing with all this brand awareness? Four in 10 British adults believe Stobart has improved the overall image of the UK haulage industry.
Only 2% believed the firm had worsened the image of haulage as an industry; 28% said it had made no difference, but 30% had no opinion on the subject That means for those who know and/or care about the industry, 58% believe the firm has improved its overall image • THE OLDER, THE BETTER In every single aspect we surveyed them on, anyone over the age of 55 has a much higher awareness of Eddie Stobart than anyone under 25— and views the firm more favourably too.
Some 72% of 55 to 64 year olds were aware of the Channel 5 programme, while those aged 65 and over had a 68% awareness. Only 30% of those between 18 and 24 had any kind of awareness of the TV show.
The same goes for knowing that the firm runs in a green, red and white livery — 70% awareness in 55 to 64 year olds and 65% for those 65 and above, but only 25% of adults under 25 were aware of the fleet colours. WHAT DO OPERATORS THINK?
Nothing divides operators like Eddie Stobart. Many admire it. The boss of one major UK-based logistics firms praised its high margin rates (5.7%), which far outweighed his own.
Others have been quick to question Stobart's strategy. Its acquisition of Autologic last year, for example, ruffled quite a few feathers in the automotive distribution world. One mid-sized haulier in the sector questioned the decision to sell Stobart Vehicles Services to Paragon. "It's the bit that makes all the money!" he pointed out.
"We don't understand the Autologic thing. All the money is in the technical services division. Have they looked to see what they've got? They need a hell of a lot of new trucks and trailers to refresh that fleet. It is market-leading, in marketshare terms. Providing they sort it out quickly, it's a great deal!"
Yet others have been disparaging about Stobart's brand extensions. One owner-operator said: "Have you seen that they have moved into legal aid?" Stobart Barristers was launched last year. "That makes me laugh. If I get into a mess, I can ring my mate Eddie to keep me out of jail!"
The commercial power of the Eddie Stobart brand is great if the 2013 Superbrand survey of more than 2,000 UK businesses and a panel of industry experts is to be believed. Stobart was voted a superbrand for the seventh consecutive year. The firm headed the Supply Chain, Distribution and Freight Services category, beating the likes of Kuehne & Nagel and Wincanton. Voters highlighted the brand as one displaying quality, reliability and distinction.
Paul Bay, from marketing and brand consultancy Citizen Bay, said the household brand recognition Stobart has is worth money inside the transport business, even if it's hard to quantify. "Of course, what counts most is whether or not Stobart's customers like the service or not, but having high household brand recognition is valuable.
"It's easy to forget that their business-tobusiness clients are run by people who are influenced outside work," he insisted.
"The TV show, the branding, the merchandise and the history of the company are all going to help drive recognition and increase the chances that Stobart gets on more contract shortlists. It's a rational response in the sense that their branding gives them recognition, but it's also emotional if your clients watch the show and think the people working for the company seem like nice people."
High recognition does carry dangers with it, however, warned Bay. "Brands need to be nurtured in the right way. It's hard to build brand recognition but easy to lose if there was ever negative publicity."