course ir CM caught up with Stobart Group chief executive
20th June 2013
Page 9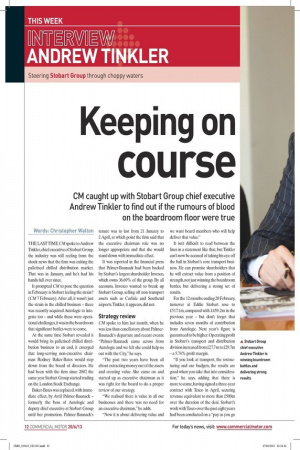 Page 10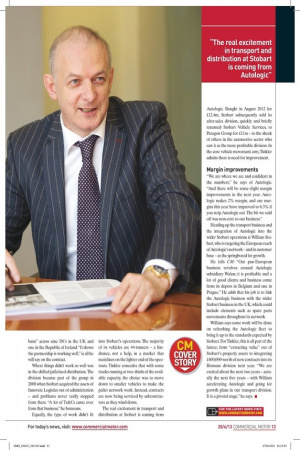 Page 9, 20th June 2013 —
course ir CM caught up with Stobart Group chief executive
Close
Andrew Tinkler to find out if the rumours of blood on the boardroom floor were true Words: Christopher Walton THE LAST TIME CM spoke to Andrew Tinkler, chief executive of Stobart Group, the industry was still reeling from the shock news that the firm was exiting the palletised chilled distribution market. That was in January, and he's had his hands full ever since.
It prompted CM to pose the question in February: is Stobart feeling the strain? (CM 7 February). After all, it wasn't just the strain in the chilled business — there was recently acquired Autologic to integrate too — and while these were operational challenges, it was in the boardroom that significant battles were to come.
At the same time Stobart revealed it would bring its palletised chilled distribution business to an end, it emerged that long-serving non-executive chairman Rodney Baker-Bates would step down from the board of directors. He had been with the firm since 2007, the same year Stobart Group started trading on the London Stock Exchange.
Baker-Bates was replaced, with immediate effect, by Avril Palmer-Baunack — formerly the boss of Autologic and deputy chief executive at Stobart Group until her promotion. Palmer-Baunack's tenure was to last from 21 January to 2 April, at which point the firm said that the executive chairman role was no longer appropriate and that she would stand down with immediate effect.
It was reported in the financial press that Palmer-Baunack had been backed by Stobart's largest shareholder Invesco, which owns 36.69% of the group. By all accounts, Invesco wanted to break up Stobart Group, selling off non-transport assets such as Carlisle and Southend airports. Tinkler, it appears, did not.
Strategy review CM spoke to him last month, when he was less than conciliatory about PalmerBaunack's departure and recent events. "Palmer-Baunack came across from Autologic and we felt she could help us out with the City," he says.
"The past two years have been all about extracting money out of the assets and creating value. She came on and started up as executive chairman as it was right for the board to do a proper review of our strategy.
"We realised there is value in all our businesses and there was no need for an executive chairman," he adds.
"Now it is about delivering value and we want board members who will help deliver that value."
It isn't difficult to read between the lines in a statement like that, but Tinkler can't now be accused of taking his eye off the ball in Stobart's core transport business. He can promise shareholders that he will extract value from a position of strength, not just winning the boardroom battles, but delivering a strong set of results.
For the 12 months ending 28 February, turnover at Eddie Stobart rose to £517.1 m, compared with £459.2m in the previous year — but don't forget that includes seven months of contribution from Autologic. Next year's figure is guaranteed to be higher Operating profit in Stobart's transport and distribution division increased from £27.7 m to £29.7m — a 5.74% profit margin.
"If you look at transport, the restructuring and our budgets, the results are good when you take that into consideration," he says, adding that there is more to come, having signed a three-year contract with Tesco in April, securing revenue equivalent to more than £500m over the duration of the deal. Stobart's work with Tesco over the past eight years had been conducted on a "pay as you go basis" across nine DCs in the UK and one in the Republic of Ireland. "It shows the partnership is working well," is all he will say on the contract.
Where things didn't work so well was in the chilled palletised distribution. The division became part of the group in 2008 when Stobart acquired the assets of Innovate Logistics out of administration — and problems never really stopped from there. "A lot of Ts&Cs came over from that business," he bemoans.
Equally, the type of work didn't fit into Stobart's operations. The majority of its vehicles are 44-tonners — a hindrance, not a help, in a market that mainlines on the lighter end of the spectrum. Tinkler concedes that with some trucks running at two-thirds of the available capacity, the choice was to move down to smaller vehicles to make the pallet network work. Instead, contracts are now being serviced by subcontractors as they wind down.
The real excitement in transport and distribution at Stobart is coming from Autologic. Bought in August 2012 for £12.4m, Stobart subsequently sold its after-sales division, quickly and briefly renamed Stobart Vehicle Services, to Paragon Group for film — to the shock of others in the automotive sector who saw it as the more profitable division. In the core vehicle movement arm, Tinkler admits there is need for improvement.
Margin improvements "We are where we are and confident in the numbers," he says of Autologic. "And there will be some slight margin improvements in the next year. Autologic makes 2% margin, and our margins this year have improved to 6.3% if you strip Autologic out. The bit we sold off was non-core to our business."
Heading up the transport business and the integration of Autologic into the wider Stobart operations is William Stobart, who is targeting the European reach of Autologic's network — and its customer base — as the springboard for growth.
He tells CM: "Our pan-European business revolves around Autologic subsidiary Walon; it is profitable and a lot of good clients and business come from its depots in Belgium and one in Prague." He adds that his job is to link the Autologic business with the wider Stobart business in the UK, which could include elements such as spare parts movements throughout its network.
William says some work will be done on refreshing the Autologic fleet to bring it up to the standards expected by Stobart. For Tinkler, this is all part of the future; from "extracting value" out of Stobart's property assets to integrating £400,000 worth of new contracts into its Biomass division next year. "We are excited about the next two years — actually the next five years — with William accelerating Autologic and going for growth plans in our transport division. It is a pivotal stage," he says. •