Passenger Transport News
20th June 1947
Page 53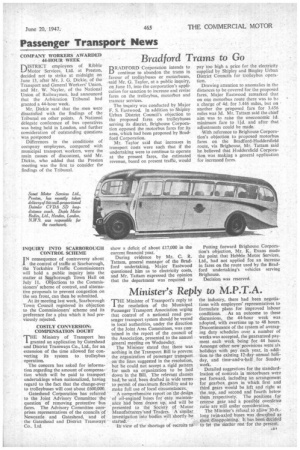 Page 53, 20th June 1947 —
Passenger Transport News
Close
COMPANY WORKERS AWARDED 44-HOUR WEEK
DISTRICT employees of Ribble. Motor Services, Ltd. at Preston, decided not to strike at midnight on June 13, after Mr. J. G. Dickie, of the Transport and General Workers' Union, and Mr. W. Nayler, of the National Union of Railwaymen, had announced that the Arbitration Tribunal had granted a 44-hour week.
Mr. Dickie said that the men were dissatisfied with the findings of the Tribunal on other points. A National delegate conference of bus operatives was being held in London. and further consideration of outstanding questions was postponed Differences in the conditions of company employees, compared with municipal transport, workers, were the main causes of discontent, said Mr. Dickie, who added that the Preston meeting was the first to consider the findings of the Tribunal.
INQUIRY INTO SCARBOROUGH CONTROL SCHEME IN consequence of controversy about I the control of traffic at Scarborough, the Yorkshire Traffic Commissioners will hold a public inquiry into the matter at Scarborough Town Hall on July 11. Objections to the Commissioners' scheme of control, and alternative proposals to prevent congestion on the sea front, can then be submitted.
At its meeting last week, Scarborough Town Council registered its objection to the Commissioners' scheme and its preference for a plan which it had previously rejected.
COSTLY CONVERSION: COMPENSATION DOUBT
THE Ministry of Transport has granted an application by Gateshead and District Tramways Co., Ltd., for an extension of the time allowed for converting its system to trolleybus operation.
The concern has asked for information regarding the amount of compensation which will be paid to transport undertakings when nationalized, having regard to the fact that the change-over ' to trolleybuses will cost about £.600,000. • Gateshead Corporation has referred • to the Joint Advisory Committee the question of removing protective bus fares. The Advisory Committee cornprises representatives of the councils of • Newcastle and Gateshead, and of . the Gateshead and District Tramways • Co., Ltd.